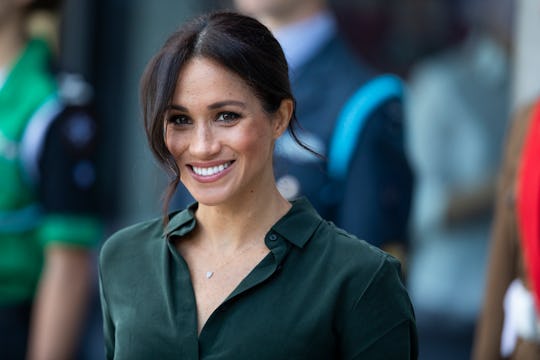 Dan Kitwood/Getty Images Entertainment/Getty Images
Here Are Some Possible Names For Meghan Markle & Prince Harry's Baby
After months of speculation (and really, people, we should be past the whole "is she or isn't she?" pregnant thing), it's been confirmed: The Duke and Duchess of Sussex, Prince Harry and Meghan Markle, are expecting their first child, according to a statement from Kensington Palace. The couple are expecting a Spring 2019 baby, but one question remains largely unanswered (at least for now): what will Meghan Markle and Prince Harry name their baby? The couple's sure to keep these kind of details close to the chest, but us commoners can start speculating... again.
Kensington Palace released a statement, via Twitter, confirming the joyous news early Monday morning:
"Their Royal Highnesses The Duke and Duchess of Sussex are very pleased to announce that The Duchess of Sussex is expecting a baby in the Spring of 2019. Their Royal Highnesses have appreciated all of the support they have received from people around the world since their wedding in May and are delighted to be able to share this happy news with the public."
The news comes on the heels of another royal wedding, Princess Eugenie's, and right before the couple are expected to embark on their first overseas royal engagement to Australia.
People have been speculating about another royal baby since Markle and Harry tied the knot, and the speculation definitely kicked into overdrive when the two attended Princess Eugenie's wedding on Friday. Betfair Spokesperson Katie Baylis told Express, "Meghan's loose coat at Princess Eugenie's wedding on Friday led to speculation that an announcement was imminent and now that we have it, the Royal Baby name game starts."
So, what are the favorite would-be names for the couple's first baby? It should come as no surprise that Diana is a big contender if Markle is having a girl, after Prince Harry's late mother, Princess Diana. If the couple is having a boy, Arthur is another big contender, according to Express. Of course, neither the couple nor Kensington Palace have released any information about possible names (nor should they, because this is a pretty personal decision, my friends) so any potential names being discussed are just guesses.
According to Express, other potential names include Alice, Edward, Elizabeth, James, Victoria, Henry, and Oliver. And, yes, people are already betting actual money on the couple's future baby's name (Diana, Arthur, and Alice all have 12/1 odds, in case you were wondering).
Regardless of the future baby's name, one thing is certain: the entire world is going to be incredibly excited to see another healthy, happy royal baby next spring.