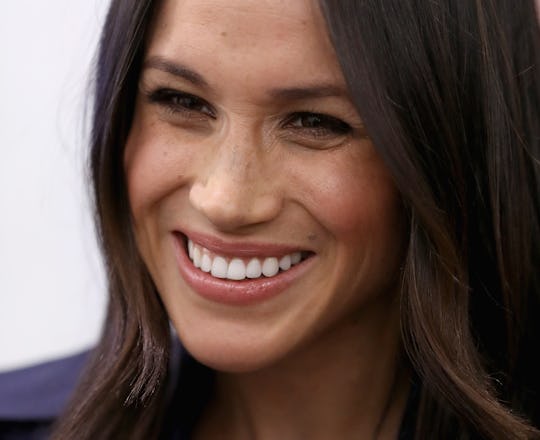 Chris Jackson/Getty Images Entertainment/Getty Images
Meghan Markle Plans To Use Her Royal Platform To Continue Empowering Women
It's no secret that a certain royal fiancée has always been passionate about helping others. Yes, Meghan Markle has been involved in activism for years now and it's fitting that she is about to marry into an extremely charitable family. Now that she's about to become an official member of the royal family, you might be wondering what Meghan Markle's chosen royal charity work will be after she ties the knot with Prince Harry this spring. Well, the soon-to-be duchess recently revealed that she is planning on using her heightened platform to empower women, adding to her long history of dedication to feminism.
Speaking at a forum on Tuesday, according to Glamour, put on by the Royal Foundation — the charity of Prince Harry, Prince William, and Kate Middleton — Markle spoke about what she really hopes to accomplish with her royal platform after she marries Prince Harry on May 19. Perhaps unsurprisingly, Markle revealed that she plans to focus on women's rights.
"What's interesting is that I hear a lot of people saying, when talking about girls' empowerment and women as well, you'll often hear people saying, 'You're helping them find their voices,'" Markle started off, according to Glamour. "I fundamentally disagree with that. Women don't need to find their voice. They need to feel empowered to use it, and people need to be encouraged to listen."
Markle also went on to speak about how now is the time to take a stand — considering all the powerful movements happening in the United States, like #MeToo and #TimesUp — and it seems as though she plans to empower women everywhere to speak out against sexism, inequalities, and more.
As W Magazine noted, though, Markle specifically speaking up about controversial and political issues is definitely something different than most royals do. But, the thing is, Markle saying the precise words of a major movement, like #MeToo and #TimesUp, could actually be breaking royal protocol. Although, since Markle isn't yet a royal, she's probably OK to talk about them openly. According to W Magazine, she said:
Right now with so many campaigns like #MeToo and Time's Up there's no better time to continue to shine a light on women feeling empowered and people supporting them.
Considering the fact that Markle only recently announced her departure from acting, it makes sense that she would still have some ties to Hollywood and feel inclined to speak out about the movements aimed at calling out and ending sexual harassment and assault in the industry and every other workplace.
Although she may not be able to address specific movements after she and Prince Harry marry, it seems as though that she'll pursue a mission that falls in line with them. Really, it's no surprise that Markle has chosen this line of charity; as Vogue reported back in November 2016, when Markle and Prince Harry's relationship first went public, she's long been involved in helping women and outspoken feminist. She once said, according to NBC News, "I am proud to be a woman and a feminist." For example, according to Vogue, Markle has been a "UN Women advocate and an ambassador for World Vision, through which she traveled to Rwanda for its clean water campaign." So clearly, her new mission to empower women is practically a natural progression from her previous efforts.
Officially, Markle will have to wait until after she and Prince Harry are married before getting her hands dirty with advocacy and charity work on a royal level, but it's clear that both she and her fiancé are excited about what's to come. "I am personally incredibly proud and excited that my soon-to-be wife who is equally passionate about seeing positive change in the world will soon be joining us with this work," Prince Harry said at the forum, according to W Magazine.
From the start of Markle and Prince Harry's relationship, it was clear that they both cared deeply about helping others. Additionally, Markle's future sister-in-law, Duchess Kate, is also dedicated to helping others. According to People, Middleton spoke at the same forum about her dedication bring awareness to the importance of mental health:
We are all so proud of the work we did with our partners, to challenge the stigma which has prevented so many people from speaking openly about their mental well-being. I am sure you will agree that the mental health of children and adults is one area where a long-term view will make a huge difference to generations in the future.
It seems as though Markle is on her way to joining the perfect family for her, one that values helping others and speaking out about issues that are deeply important to them and to society as a whole. For Markle, using her new platform to continue empowering women is not only a timely cause, it's an important one that certainly warrants awareness on a royal level as well.
Check out Romper's new video series, Romper's Doula Diaries:
Watch full episodes of Romper's Doula Diaries on Facebook Watch.