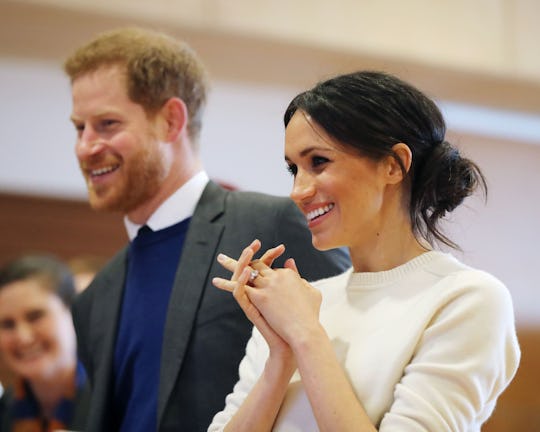 Pool/Getty Images Entertainment/Getty Images
Here's The Royal Title Meghan Markle Could Have After She & Prince Harry Tie The Knot
The royal wedding is mere weeks away and as so many details start to be made public, there are still just as many questions that the public wants answered. For instance, where will the couple honeymoon, and what will Meghan Markle's royal title be? Well, that first question isn't too mysterious, as several publications have reported that the happy couple will be visiting Africa. And as for the second question, nothing has been confirmed, but it's pretty accepted knowledge that Markle's title will eventually be, Her Royal Highness Meghan, Duchess of Sussex, according to The Telegraph.
But, because Markle's actual title is still technically unknown, that could very well change. But, because of how Kate Middleton received her official title, it's likely that Markle's process would be pretty similar. According to Vogue, "the Queen granted the dukedom to the couple on the occasion of their marriage," after Prince William married Middleton. Afterwards, Middleton became Her Royal Highness, Catherine Duchess of Cambridge, but also holds the title Princess William, which is just customary for women who marry into the royal family with no royal background, the publication noted.
So, because the title of Duke and Duchess of Sussex hasn't been held since 1843, as Vogue reported, it would make sense for Prince Harry and Markle to carry on the title themselves.
Fittingly enough, as The Telegraph reported, the previous Duke of Sussex and Prince Harry definitely have one very important thing in common. No, the Duke of Sussex wasn't a redhead (well, maybe, that's not really clear), but he did marry for love and not tradition, the publication reported. So clearly, it would be pretty great if Prince Harry and Markle were given the titles of Duke and Duchess of Sussex, as they're also so obviously marrying for love.
Additionally, the previous Duke of Cambridge, Prince George, is "known as the 2nd Duke of Cambridge" and "married a commoner for love just like Prince William," per The Telegraph. But it isn't just convenience or coincidence that means Prince Harry and Markle will likely be granted the Sussex title. According to Us Weekly, "They're quite limited in the titles that are available. The Duke of Sussex is the front-runner without any doubt." Basically, there aren't that many titles out there and it isn't really customary to just make up a title.
Additionally, the Sussex title would be pretty extraordinary for another reason. Because the last Duke of Sussex married for love, twice, by the way, neither marriage was approved by his father, so there has never been a legal Duchess of Sussex. "This means Markle would be the first woman permitted to use the title," according to Us Weekly. So, not only would Markle be breaking tradition by being an American in the royal family, but she would also be the first Duchess of Sussex, which is pretty cool.
Of course, Markle's journey to become a royal has been somewhat of a whirlwind. The former actress has retired from acting, deleted her social media accounts, and moved to Kensington Palace. Her entire life is about to change on May 19, 2018 when she marries Prince Harry, so it's only fitting that her name should change as well. Truly, Markle and Prince Harry's journey has been a long time coming, and most of the public is just excited to see them finally tie the knot. Especially considering the fact that when Markle was just an 8-year-old girl, she dressed up as a literal queen at a friend's birthday party, according to E! News. Of course, it's impossible that Markle would ever actually be queen, but she was clearly destined to be a royal.
Check out Romper's new video series, Bearing The Motherload, where disagreeing parents from different sides of an issue sit down with a mediator and talk about how to support (and not judge) each other's parenting perspectives. New episodes air Mondays on Facebook.