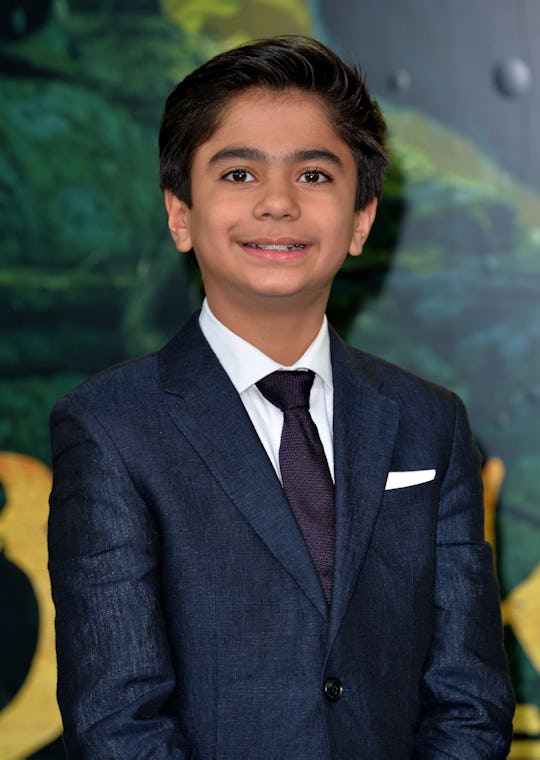 Anthony Harvey/Getty Images Entertainment/Getty Images
What Will Neel Sethi Do After 'The Jungle Book?' He Wants To Be A Superhero
After stealing moviegoers' hearts as Mowgli in one seriously successful new Disney reboot this weekend, it's only normal to wonder what Neel Sethi will do after The Jungle Book. The kid definitely has some star power, to be sure. But for now, Sethi seems keen to soak in his breakout role and sit tight until the next big thing comes along.
Obviously, any casting director should be taking note of the child actor. Not only is he adorable, he's also talented. Imagine being a 12-year old and acting out an entire film as the only human being on set. That takes some skill, even if you have director Jon Favreau leading the way. Sethi recently confirmed to Good Morning America that he really was going it alone in the wilds of the Hollywood studios and soundstage throughout filming. "There was no tigers, no animals, no nothing," he said. (Only a 12-year old, or me, could spend months basically talking to pretend animals and come out happier than where they started.)
Moviegoers will certainly be seeing more of him in the future too, thankfully. "I want to act a lot more," Sethi told GMA. "I have some stuff in the works."
Just what he has in the works is still under wraps, but Disney has already confirmed that they plan on making a sequel to The Jungle Book with director Jon Favreau on board. Although there's no word yet on which Rudyard Kipling story they're going to pull from, there's more than enough material to give Sethi's Mowgli a reprise.
Sethi told The Independent recently that he wants to play Mowgli again, but also has some bigger action star plans. "I want to keep playing Mowgli, but I also want to be a new superhero," he said. "One no one knows about yet. I don't know out of DC and Marvel, I want to be a mix."
Since he got to work so closely with Favreau, who has directed Iron Man and is returning to do another Avengers film soon, Sethi's dreams of becoming a superhero could very well become reality if he knows how to network. There's got to be something the director can come up with for this wolf pup.
Despite all the attention, Sethi seems to be just another kid looking to have a good time, experiencing a bit of culture shock when it came to his newfound celebrity status. "My life is crazy different now," he told The Independent in the same interview, adding,
I'm not in school, I don't get to see my parents in the dentist office. I don't get to see my friends. But I'm in a movie. I'm flying across the world. I'm doing stuff like this. I'm doing premieres, which is really cool. So it all balances itself out.
Talk about a good attitude. We should all hope to have that kind of positive outlook.
It looks like the pre-teen already knows what the bare necessities of life really are — some Hollywood connections, knowing when to miss your parents, and just taking it all in, one project at a time.