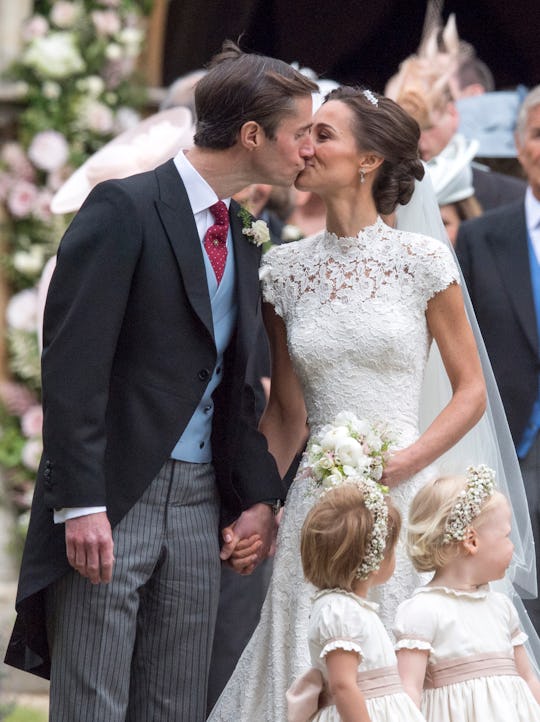 WPA Pool/Getty Images Entertainment/Getty Images
Pippa Middleton Is Reportedly Expecting Baby No. 1 & Her Little One Could Hold A Special Title
The royal family is reportedly growing by one more! According to Reuters, Pippa Middleton, sister to Duchess of Cambridge Kate Middleton, reportedly has a baby on the way. While she didn't marry a prince of her own, Middleton did inherit a title when she married her husband, James Matthews. As he will one day be a lord, she will one day be a lady. But what will Pippa Middleton's baby's title be? He or she will be no common peasant.
Romper's request for comment was not immediately returned, and a rep for Middleton declined to comment to People. The Sun on Sunday first reported the news of Middleton's pregnancy early Sunday morning and fans and followers of the royal family have been scrambling for details ever since. So far, it has been shared that she is reportedly due in October and therefore in the beginning of her second trimester, according to Reuters, and is reportedly happier than can be at the idea of motherhood. "When Pippa found out she was pregnant, she was obviously thrilled and utterly overjoyed," a source reportedly told The Sun. She's not the only one who is in love with the coming baby. Her sister, Princess Kate, and their parents are also thrilled by the news, the source told the news outlet.
The offspring of the Middleton children get a little something extra in the name department. Duchess Kate's children were given the titles of prince and princess by the queen. Pippa Middleton's rumored baby-to-be will not be afforded the same right, but he or she will have an official title. Middleton became the heir to the title of "lady" when she married Matthews. This is because he is heir to the Scottish title of "Laird of Glen Affric" — a position currently held by his father, who owns owns a massive 10,000-acre estate in the Scottish highlands, according to In Touch Weekly. When he passes on, Matthews will become Laird in his own right. His and Middleton's child would then become a lord or a lady when he or she inherits the title.
Don't feel too bad for Middleton and Matthews' baby, though. He or she will be in good company. As it stands, any future children of Prince Harry and Meghan Markle will also be called lords and ladies, unless the queen intervenes, according to The Independent. She did so when Duchess Kate and Prince William were expecting their first child by issuing a Letters Patent under the Great Seal of the Realm that declared:
All the children of the eldest son of the Prince of Wales should have and enjoy the style, title and attribute of royal highness with the titular dignity of Prince or Princess prefixed to their Christian names or with such other titles of honour.
The queen is unlikely to intervene on behalf of Pippa Middleton's reported child (as he or she isn't technically a member of the royal family), but that's OK. Even if the baby isn't a prince or princess by title, I have no doubt that Middleton and Matthews will treat their little one like royalty. It is clear that he or she is already very loved. A source close to the couple reportedly told The Sun that Middleton and Matthews are more than ready to be parents:
Pippa and James have always known they wanted children. They have made the most of their first few months of marriage and felt the time was right to expand their family.
A new niece or nephew set to arrive any day now and a rumored baby of their own to look forward to a few months later? This year is shaping up to be a pretty exciting year for the Middleton and Matthews — as well as anyone following the ever growing royal family tree.
Check out Romper's new video series, Bearing The Motherload, where disagreeing parents from different sides of an issue sit down with a mediator and talk about how to support (and not judge) each other's parenting perspectives. New episodes air Mondays on Facebook.