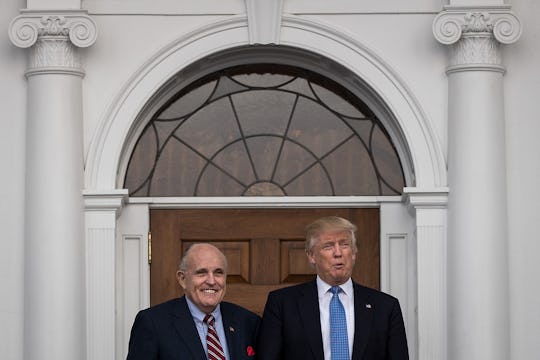 Drew Angerer/Getty Images News/Getty Images
About Giuliani's New Trump Administration Gig
Former New York City Mayor Rudy Guiliani didn't manage to secure the secretary of state position that he was hoping for, but he's still been asked to work with President-elect Trump in a professional capacity, it seems. So what will Rudy Giuliani do in Trump's administration, exactly? In an official statement, the Trump transition team shared that Giuliani "will be sharing his expertise and insight as a trusted friend concerning private sector cybersecurity problems and emerging solutions developing in the private sector."
Giuliani, who owns an international security consulting firm himself, will be helping to form a cybersecurity group because, as he told Fox & Friends on Thursday, he believes that as a nation "we're so far behind." Comparing it to cancer, Giuliani stressed the need for a cybersecurity group by saying: "You know, there's cancer research going on all over the place ― you'd almost wish they'd get together in one room and maybe we'd find a cure." With this group, then, Giuliani hopes to "cure" cybersecurity issues.
The not-yet-formed group, which will be comprised of private sector executives, will provide "anecdotal information" to the president-elect regarding concerns of cybersecurity. The participants in the group will reportedly remain consistent, though "the specific agenda subjects will likely change because of the rapidly evolving field of cyber security, and frequent developments, both positive and negative," Trump's transition team shared in its statement announcing Giuliani's role.
Cybersecurity has become a major focus of the Trump team, especially in recent days. Though he finally and reluctantly conceded in his long-awaited press conference that he believes Russian hackers targeted the Democratic Party during the election, Trump has still denied that hacking was executed on his behalf, despite the U.S. intelligence committee concluding in an intelligence report released last week that both "Putin and the Russian Government developed a clear preference for President-elect Trump" in their targeted hacks.
The cybersecurity group will be formed in order to assess and prevent breeches on an international level. A close friend, fan, and consistent adviser of Trump's, Giuliani has stated that he will not resign from his private security consulting positions, telling Politico in an interview: "I don't see any way in which this is a conflict." Giuliani was offered the job of spearheading such a group due to "his long and very successful government career in law enforcement and his now sixteen years of work providing security solutions in the private sector," the transition shared.