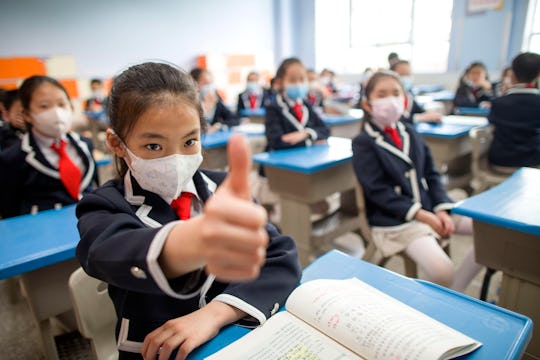 China News Service/China News Service/Getty Images
Photos From China, France & More Offer A Peek At How Schools May Look Post-Shutdown
Parents, teachers, school administrators, and even students are beginning to imagine what schools will look like post-coronavirus pandemic. Whether they reopen in the fall, or next year, American classrooms are likely going to look very different as a result of the global coronavirus pandemic. But just how different could going to school be? Photos from countries that have already begun welcoming students back into classrooms may shed some light as to what parents and students might expect.
Although schools have begun reopening in China, Denmark, Norway, Germany, France, and parts of Australia, it's so far been a vastly different scene in the United States. While at least one school — a private school in Idaho — has returned to in-classroom learning, most states have urged schools to continue remote learning. According to CNN, government officials in at least 48 states and Washington, D.C. have ordered or recommended that schools remain closed for the remainder of the school year.
Unfortunately, an exact timeframe for when U.S. students might expect to return to school remains unknown. However, public health officials' recent warning that a vaccine isn't likely to be ready before the new school year begins in the fall means students can likely expect to see a number of different social distancing precautions in place whenever schools reopen.
Guidance for schools issued by the Centers for Disease Control and Prevention (CDC) recommend increasing the physical distance between desks, canceling or modifying classes and activities where students would be in close contact, staggering arrival and dismissal times, and having teachers move between classrooms instead of students. Additional recommendations include suspending the use of lockers and modifying lunch and recess to avoid students congregating in groups.
These guidelines, as well as what the school day looks like in countries that have already returned students to the classroom, help provide some clues as to what schools might look like post-pandemic: