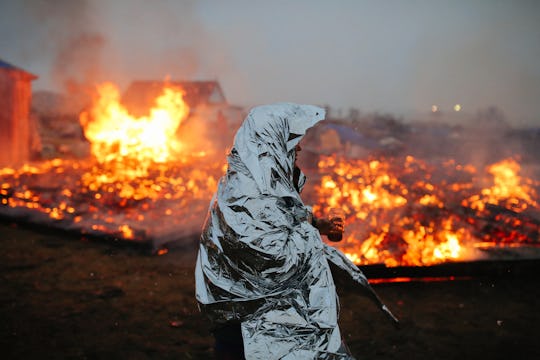 Stephen Yang/Getty Images News/Getty Images
What Will The Standing Rock Protesters Do Next?
Earlier this month, President Trump signed an order that allowed construction of the Dakota Access Pipeline to continue. It was a huge blow to the protestors who had been camping out in South Dakota, hoping to preserve native lands. On Wednesday, the deadline was up for protestors to leave their encampments. So what will the Standing Rock protestors do next? It's sort of all up in the air.
Some protestors left peacefully. Others peacefully set fire to their camps. Sure, fire always looks "violent," but setting fire to the camp, for protestors who have been camped out since last year, was the only way to go.
"People have said their last prayers, and offered cedar to the sacred fire and are also burning these structures we have ceremonially built, so they must be ceremonially removed," Vanessa Castle of the Lower Elwha Klallam tribe told The Seattle Times. "They cannot be bulldozed, no other hands or malice of bad intentions can touch them," she added.
In other words, if you see images of the camps being lit on fire, it's not a violent protest. It's a way of saying goodbye for most protestors. It's a way to leave the camp on their own terms without having the government take it from them, according to Castle. There is no violence coming from the DAPL protestors. Many of the protestors, knowing that they eventually had to pack up, have been working to clean up the camps, along with the Army Corps officials that have been deployed to the site. No one wants to leave the land in a state of disrepair.
But just because they've left their camp in a blaze doesn't mean that protestors are going home. In fact, more camps are popping up, on private land, like one the Cheyenne River Sioux set up. "The camps will continue. Freedom is in our DNA, and we have no choice but to continue the struggle," Phyllis Young, one of the camp leaders told CBS News.
After the 2 p.m. deadline that the protestors were given to leave the DAPL land on Wednesday, organizers announced a set of actions for March. From March 7-9, the Standing Rock Sioux and their allies plan to gather in D.C., leading up to a march, which will take place March 10, "from the Mall to the White House beginning at 10 a.m." Organizers wrote on their website that "after the march, we will gather for a rally at the Ellipse. It is here we will make our demands to the new administration."
The new administration, however, doesn't seem to be ready to listen to DAPL (or Keystone Pipeline) protestors. Trump signed an executive order in January allowing the construction of both of the controversial pipelines to continue, in the name of jobs. Although both pipelines promise very few jobs for American workers and threaten the environment — along with putting the water supply in four states in danger — for now, Trump seems to be refusing to budge.
Hopefully, the Trump administration will notice that making America great doesn't involve marginalizing native communities or messing with water supply, and will be able to have a constructive conversation with activists. The protestors might have moved in the name of keeping the peace, but they aren't going away anytime soon, and Trump would do well to take notice.