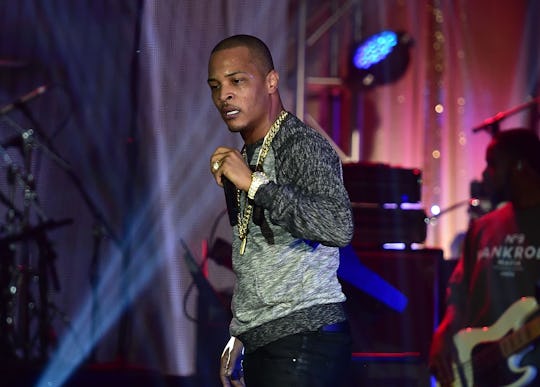 Paras Griffin/Getty Images Entertainment/Getty Images
What Will T.I. Name His New Baby? She's One Lucky Girl
Congratulations are in order for rapper T.I. and his wife, Tameka "Tiny" Harris, who gave birth March 26 to a baby girl! So far, what T.I. will name his new baby has been kept very hush-hush, but it's sure to be good. T.I. and Tiny have two sons, King and Major, and are also raising four other children from their previous relationships, leading to the hashtag #Lucky7 for their new girl.
Tiny shared a statement with E! Online, after the baby's unexpectedly early delivery:
In true Harris fashion, our baby girl made us all HUSTLE, making a surprise early entrance. While we expected her to arrive around April 20th, our PERFECT baby girl decided March 26th was the right time for her DEBUT. My husband, Tip Harris, went from the stage right to the plane from his show in Las Vegas and luckily, made it to Atlanta with time to spare. Our whole clan was together to see our beautiful healthy baby girl make her way into the world. Just the way I like it!! We are looking forward to more exciting times with our #Lucky7.
The two musicians began dating in 2001 and married in 2010. They collaborate in ways besides the baby-making one. They have a reality TV show together on VH1, T.I. & Tiny: The Family Hustle, which chronicles the everyday life of their family, meaning that #Lucky7 baby may be making her television debut in the near future.
Individually, T.I. and Tiny aren't exactly slouches. T.I., whose real name is Clifford Harris, regularly charts way up on the Billboard Top 200. Tiny was part of the Grammy-Award winning band Xscape. Also, most importantly to my child-of-the-'90s heart, she co-wrote "No Scrubs", to which I absolutely knew all the words. (I even once went to a TLC concert pretty much only to hear that song, but had to leave before they sang it because it was past my bedtime.)
So far, it seems like Baby Harris is doing well, even if she is keeping her parents up at night...
And according to what Tiny told ET, the baby's older brothers were very excited in advance of her birth. "They are trying to pitch in at home," she said. "King has already bought the baby gifts. He found some socks the other day for the baby." So that's adorable.
Stay tuned on updates for baby names! Who knows? Maybe this whole "Lucky" thing will catch on, and they'll end up naming her that, just like the eponymous protagonist in another song I knew all the words to growing up.