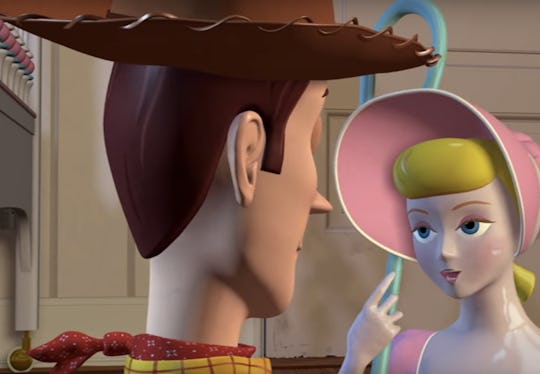 What Will 'Toy Story 4' Be About? Woody & Bo Peep Love Story Rumors Abound
Recently on The Graham Norton Show, Tom Hanks revealed that he is recording lines for Toy Story 4, which will be released in 2018. Despite the far-away release date, excitement is ramping up for the franchise's fourth installment, and one question everyone is asking is: What will Toy Story 4 be about? Since Toy Story 3 wrapped up the trilogy so nicely, there's open speculation about what this blank slate of a movie will focus on. There's no concrete information at this point, but there are some promising theories and dropped hints to potentially point you in the right direction.
Director John Lasseter — who worked on the first two Toy Story films — will be calling the shots again, and he's been fairly generous with his hints. Back in August, at Disney's D23 Expo, he had quite a bit to say about Bo Peep. "We never got to know her backstory," he said. "She wasn't in Toy Story 3 at all, so it really sets us up nicely for her to come back."
Lasseter doesn't seem to be discouraging that focus, either. "It's a love story with Woody and — this is news — Bo Peep," Lasseter said at D23. He mentioned that Bo Peep reminds him a lot of his wife Nancy, who has a strong, emotional story from before she met Lasseter. "So it's a very personal story," he said of Toy Story 4. "It's a very touching story that's inspired by my love for my wife."
The description of Toy Story 4 on IMDB is a simple one-liner at the moment, but it hints at a romantic adventure, saying, "Woody and Buzz go on an adventure to find the one toy who was given away... Bo Peep." Lasseter said similar at D23, confirming, "Woody and Buzz Lightyear go out to find Bo Peep and bring her back, and it's a very special and emotional love story."
People are excited, to say the least:
Either way, emotions abound, and we're sure to get a few more hints from director Lasseter, writers Rashida Jones and Will McCormack, and actors Tom Hanks, Tim Allen, and the rest of the Toy Story gang. Hanks was already reprimanded by Disney's lawyers for revealing information on Toy Story 4, to which he replied "I'm Woody! I'll say whatever I want!"
Hurry up, 2018! We're looking forward to the next film being just as spectacular as Toy Story 3.
Image: Youtube