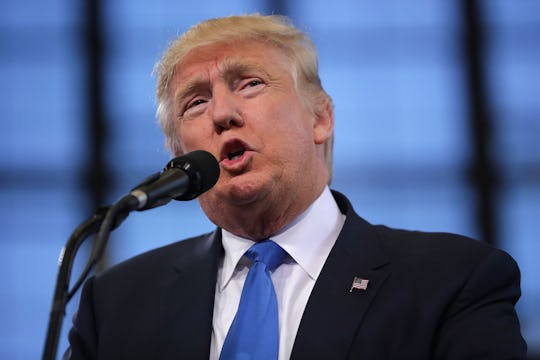 Chip Somodevilla/Getty Images News/Getty Images
What Will Trump Do In His First 200 Days In Office? He's Just Released His Plan
If you were wondering what President-elect Donald Trump was actually planning for his first days in office, worry no longer. A new memo from the transition team, obtained by CNN, lays out exactly what Trump will do in his first 200 days in office. According to CNN, the memo says that the contents are "for discussion purposes only," so everything could change come Inauguration Day. And it likely will. But Trump supporters who voted for him based on his economic policies might be pleased with this draft.
The memo says that trade negotiations will begin on day one, starting with renegotiating the North American Free Trade Agreement (NAFTA), which is something that Trump promised on the campaign trail. The document makes clear that Trump really is going his own way. "The Trump trade plan breaks with the globalist wings of both the Republican and Democratic parties. The Trump administration will reverse decades of conciliatory trade policy." It goes on to say that "new trade agreements will be negotiated that provide for the interests of US workers and companies first."
The first 200 days are basically going to be Trump's attempt to make America really great again, centered around five main objectives. The first, renegotiating or withdrawing from NAFTA and stopping Trans-Pacific Partnership (TPP), stopping "unfair imports," then "unfair trade practices," then pursue "bilateral trade deals" and then to "retain and return manufacturing jobs" to Americans. The manufacturing point is built around lowering the tax rate for business and deregulating industries like energy, so it's not time to break out the Bob the Builder hats just yet. (If only, right?)
The plan has benchmarks for day one, 100, and 200. The first day is when they start figuring out NAFTA, by day 100, the team wants to be aggressively targeting China. By day 200, Trump would consider totally withdrawing from NAFTA if negotiations go poorly and then pursue other trade deals.
There are a few things about the plan that might not actually be what they seem. For example, no one in either party is planning on ratifying it this session — so Trump wouldn't really be doing anything, since it's sort of a moot point. The other thing is that Democrats might be a little worried about the distaste for globalist trade. Trumps policies — both social and economic — are about as isolationist as one can get.
But who knows what kind of blanks they can fill in to define "unfair" policies and what they plan on doing to make them "fair" again. There are going to be a lot more memos and to-do lists for Trump in the coming months.