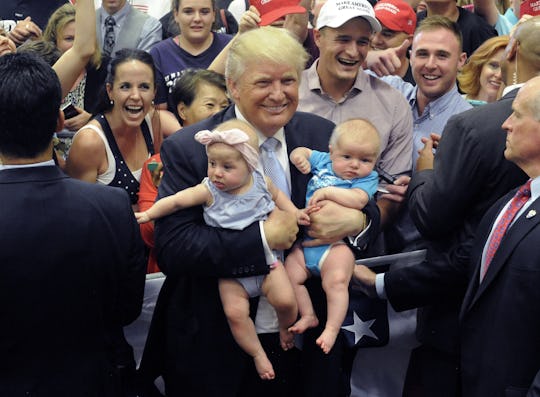 JASON CONNOLLY/AFP/Getty Images
What Will Trump's Child Care Tax Plan Include? The Details Are Scant So Far
After one of the most fraught weeks of his campaign, Republican nominee Donald Trump is scheduled to unveil a new child care tax plan in an economic policy speech in Detroit, Michigan, on Monday morning at 11:30 a.m. local time. What will Trump's child care tax plan include? While his campaign has remained mostly tight lipped about the specific details thus far, the big reveal is that Trump's economic plan would allow Americans to exclude child care from their taxes, meaning that child care expenses would be fully tax deductible.
Trump's economic speech on Monday comes after a near catastrophic week for his campaign, with one unbelievable gaffe after another — from insulting the family of a deceased Muslim-American soldier to accepting a Purple Heart medal in the worst way possible from a supporter at one of his rallies, to dissing then backtracking on his support of key GOP party leaders. While Trump's speech is set to focus on a number of economic issues currently facing the country, the child care tax plan is of particular interest to many, and harkens back to promises his daughter Ivanka made of her father's campaign when she spoke at the Republican National Convention last month in Philadelphia, Pennsylvania.
In her lengthy introduction at the RNC in July, Ivanka Trump stated that her father is and would continue to be a champion for women's issues if elected president, specifically:
As President, my father will change the labor laws that were put into place at a time when women were not a significant portion of the workforce. And he will focus on making quality childcare affordable and accessible for all.
But as the days ticked away after the RNC packed up and left Philly, specifics on exactly how Trump would make child care "affordable and accessible for all" remained scant. In fact, there was no mention of childcare or equal pay — another of Ivanka's policy promises on behalf of her father — anywhere on Trump's campaign website:
(It should be noted that since this screenshot was first posted to Twitter on July 28, the entire "Tax Reform" header under his "Positions" section appears to have been removed from the Trump campaign website entirely.)
At the time of Ivanka's speech at the RNC, she painted her father as the kind of family man who really gets the plight of the working mother in America, a man who really understands pocketbook issues of the every day American. It was a surprising characterization, given that his wife Melania does the bulk of the parenting — and the Trumps refuse to use nannies.
On Twitter, Michael Linden, a self-described "budget and econ wonk," shared a succinct run down of everything wrong with Trump's proposed child care tax plan — even before all the specifics have been released:
As the election draws closer, Trump's new child care tax plan will be one of many policy speeches voters can expect to see on his campaign trail — as it's time for the GOP presidential candidate to start putting some actual plans behind all his promises.