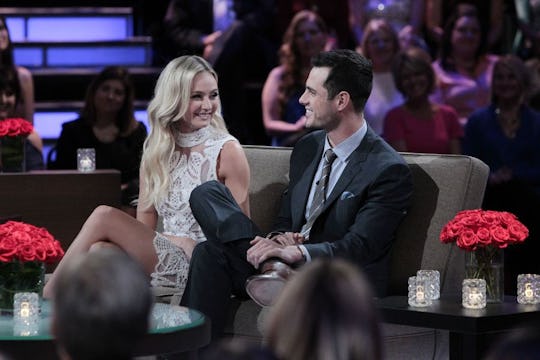 Rick Rowell/ABC
What Would Ben Higgins & Lauren Bushnell's Kids Look Like? Here Are The 'Bachelor's Potential Babies — PHOTOS
The fairytale courtship may be over for The Bachelor couple Ben Higgins and Lauren Bushnell, but the happily ever after is just beginning. It has only been a couple of weeks since the couple went public, but they are already fielding questions about what is next for them, specifically, when will there be little Bachelor babies running around? I'm not putting pressure on the two to start having children, but in the spirit of a natural progression in questioning, you might be wondering what Ben and Lauren B.'s Bachelor baby would look like.
The happy couple has just started going on public dates as Blauren — go with it — for the first time in their lives, but it is already obvious that the two have babies on the brain. While on one of their "first dates" to The Lion King on Broadway, Ben posted a photo of Lauren holding up Simba with the caption "My girl practicing parenting." OK, you guys, I can take a hint. You want me to tell you what your future children's faces will look like courtesy of face morph websites that will blend your faces together. Consider it done.
While we don't know when Ben and Lauren will have kids, those of us that are rooting for Ben Jr. and Lauren B. Jr. to happen sooner, rather than later, can sleep easy at night thanks to these wonderfully predictive — probably not that accurate — face morphs of the happy couple. (You're welcome for this.)
Ben Jr. is looking dashing in a polo.
It's nice to see that Lauren B. Jr. and Ben Jr. have the same smile.
This Ben Jr. looks like he's ready to hit the slopes.
And Lauren B. Jr. is all set for Coachella this year. Just point her to the main stage and don't diss her flower crown.
Although this is not the most accurate depiction of what Lauren B. and Ben's children will look like, maybe these morphed faces will light a bit of a fire under their butts to get started.
Images: Craig Sjodin/ABC (2)