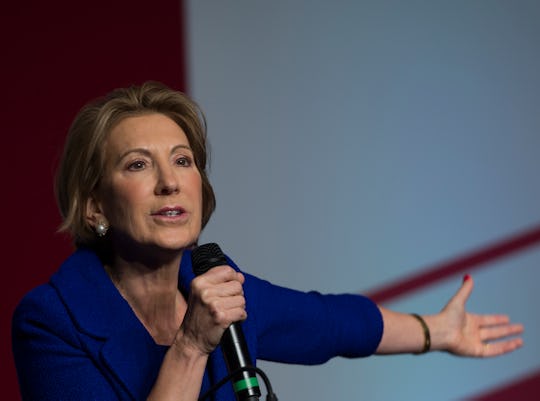 MOLLY RILEY/AFP/Getty Images
What Would Carly Fiorina's Duties Be If Picked As Director Of National Intelligence?
Well, Donald Trump may think that Carly Fiorina's face is too unattractive for her to be president, but apparently it's just fine to serve as director of national intelligence. The president-elect is reportedly considering Fiorina for the important post, according to The New York Times. But what would Carly Fiorina's responsibilities be as director of national intelligence, and is the former Hewlett-Packard chief executive qualified for the post? The job is a pivotal one, especially now.
The director of national intelligence advises the president, the NSA, and the Homeland Security Council on matters of intelligence and national security. The position was created after the 9/11 attacks. Important issues for the next DNI will certainly include the alleged Russian interference with the election.
According to The Washington Post, a secret CIA assessment determined that Russia hacked the election with the goal of getting Trump elected. The president-elect has not taken kindly to the allegations. (The FBI has stopped short of saying that Russia's goal was to elect Trump, saying instead that it may have been merely to interfere.) And although President Barack Obama has ordered a full review of the hacking before he leaves office, the question of Russia's role, and what to do about it, will certainly carry over to Trump's tenure as president.
It looks like Fiorina, if picked, will not go against the boss' wishes to make a grand stand on Russia. Fiorina met with Trump at Trump Tower on Monday to discuss her possible future role, and came out of the meeting with nothing but praise for the president-elect. Besides complimenting all the athletic memorabilia he had in his office (she was especially taken by the shoe Shaquille O'Neal gave Trump, saying, "I guess it takes a champion to know a champion"), she said,
We talked about hacking, whether it's Chinese hacking or purported Russian hacking. We talked about the opportunity that the president-elect has to literally reset things, to reset the trajectory of this economy, to reset the role of government, to reset America's role in the world and how we're perceived in the world. And I think it's why he's getting such fantastic people in his administration.
(Note the use of "purported" as pertains to Russian hacking but not to Chinese hacking.)
As for her qualifications, Fiorina has never worked in a spy agency. Her major work experience comes from her tenure as CEO of Hewlett-Packard, a job from which she was eventually fired and which lead to her appearance on several "Worst C.E.O." lists, including a ranking for Portfolio magazine, where she was dubbed the 19th worst American C.E.O. of all time.
She and Trump sparred during the long Republican presidential primary, when they ran against one another. He told Rolling Stone, regarding Fiorina, "Look at that face! Would anyone vote for that? Can you imagine that, the face of our next president?" Fiorina later called for him to drop out of the race after the infamous leak of his lewd comments on women that were caught on tape.
But hey, Trump sure has a lot of cool stuff from athletes in his office!