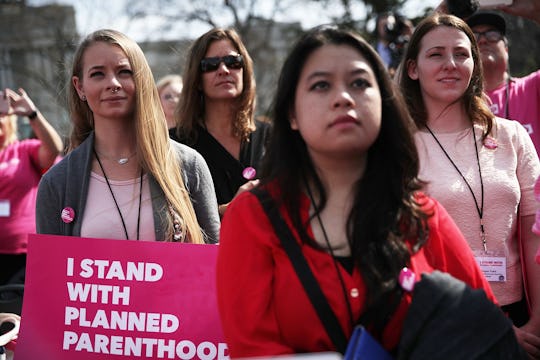 Alex Wong/Getty Images News/Getty Images
The Fate Of Planned Parenthood Patients Under Trumpcare
The American Healthcare Act, better known as Trumpcare, will do away with many of the healthcare mandates and provisions from the Affordable Care Act (or Obamacare), so there are tons of changes on the way if it ever gets approved by Congress. One of the biggest changes is that the GOP wants to stop funding Planned Parenthood by no longer offering Medicaid reimbursements to the health clinics themselves. So if low income women can no longer use Medicaid to get care, what will really happen to Planned Parenthood patients under Trumpcare?
Republicans like Paul Ryan insist that there are enough federally funded healthcare clinics throughout the country that can absorb the non-abortion services that Planned Parenthood provides, like checkups, prenatal care, and STI testing, plus all the patients that come with them. In theory, that could be possible, as there are 650 Planned Parenthood clinics and about 9,800 health centers under the federal Health Center Program, plus another 4,100 clinics under the Rural Healthcare Clinic program, both of which serve low income women and men.
Ryan said in a January CNN town hall that the healthcare clinics are "vastly bigger in network, there are so many more of them, and they provide these kinds of services without all of the controversy surrounding this [abortion] issue."
But that's only half of the story. The federally qualified health centers are required to offer a sliding pay scale to patients who can't afford care, and receive Medicaid reimbursements, so in that sense, they're just as good as Planned Parenthood clinics. They also provide a wider range of services, so they can function as a one stop shop.
But overall, women aren't inclined to use the clinics for their contraception needs. According to Congressional Research Service, in 2014 the health centers in total provided 1.3 million contraceptive services and Planned Parenthood clinics provided 3.6 million. While there are in fact more of the federally qualified health centers, women flock to Planned Parenthood when it comes to their reproductive health — likely because they know it's a safe and respectful place to do so.
Even worse, the Rural Healthcare Clinic program doesn't require that healthcare centers offer care to low income patients or offer a sliding scale. They're also not required to offer family planning services, so if some clinic in Mississippi doesn't want to give women IUDS because they think IUDS are akin to abortion, they don't have to provide IUDS.
In other words, the federally funded healthcare clinics are in actuality no way similar to Planned Parenthood clinics, once you dig beneath the surface. Ryan and the GOP are misrepresenting the options for low income women moving forward.
The Congressional Budget Office has also reported that AHCA would be a disaster for women. In a report released earlier this month, officials wrote, "To the extent that there would be reductions in access to care under the legislation, they would affect services that help women avert pregnancies."
It also added that the women who were most likely to lose contraceptive coverage live in rural areas. "[They] probably reside in areas without other health care clinics or medical practitioners who serve low-income populations. CBO projects that about 15 percent of those people would lose access to care," it concluded.
Women, especially low income women, have a lot to lose if the GOP votes to pass Trumpcare and begins defunding Planned Parenthood. Hopefully they'll be able to come to a conclusion that actually serves women who need it most.