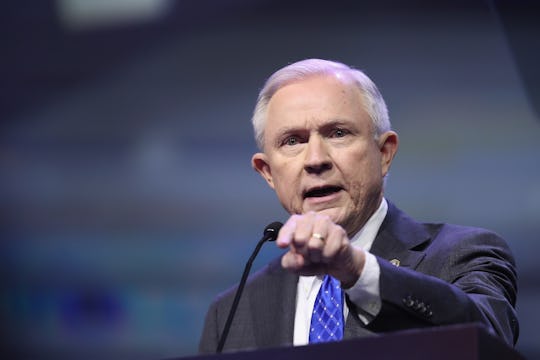 Scott Olson/Getty Images News/Getty Images
What Would Jeff Sessions' Attorney General Responsibilities Be? His Record Concerns Many
As President-elect Donald Trump continues to fill the roles of his Cabinet members, many of his choices for crucial top positions have come with some rather controversial backgrounds. And it happened again on Friday when Trump announced that had he asked Jeff Sessions to be the next U.S. attorney general, saying that he was a "world-class legal mind and considered a truly great Attorney General." The now 69-year-old veteran senator from Alabama would essentially be the nation's top law enforcement official, leading many to wonder what exactly his responsibilities would be.
According to the United States Department of Justice website, the attorney general is the chief lawyer for the United States, representing the government in all legal matters. The responsibilities are wide-reaching and can sound a bit vague, but Sessions would be a powerful figure as the next attorney general. He will essentially represent and oversee any and all cases that involve the United States government and he will give legal advice to Trump as well as other top Cabinet members as they need it.
Shortly after the announcement, Sessions — who was Trump's first endorser in the Senate — said he was "humbled" to be nominated for the position by Trump.
According to The Huffington Post, Sessions said:
My previous 15 years working in the Department of Justice were extraordinarily fulfilling. I love the Department, its people and its mission. I can think of no greater honor than to lead them. With the support of my Senate colleagues, I will give all my strength to advance the Department's highest ideals. I enthusiastically embrace President-elect Trump's vision for "one America," and his commitment to equal justice under law. I look forward to fulfilling my duties with an unwavering dedication to fairness and impartiality.
While Trump said in a statement that it's "an honor" that Sessions will serve as the next attorney general, a lot of people appear to be uneasy with his decision. For example, The New York Times called it "an insult to justice" as Sessions has been described as a "career racist."
Sessions got this reputation almost 30 years ago when he was reportedly deemed too racist to be a federal judge. According to The Huffington Post, back in 1986, the Senate Judiciary Committee rejected President Ronald Reagan's nomination of the former Alabama senator (whose full name is Jefferson Beauregard Sessions III, named after a Confederate general) to be a federal judge over allegations that he made racist comments and once referred to civil rights groups as "un-American."
Trump's nomination has already drawn in heavy opposition and criticism from many, including media outlets and civil rights groups, such as the NAACP that found it "deeply troubling."
"We expect today's senators, like their predecessors in 1986, to examine Mr. Sessions's views and record with bipartisan rigor," according to an article published by The New York Times editorial board. "If they do, it is hard to imagine that they will endorse a man once rejected for a low-level judgeship to safeguard justice for all Americans as attorney general."
The attorney general is crucial in protecting every American's civil liberties. So with Sessions holding these responsibilities of the nation's chief protector and enforcer of legal issues, many are rightfully concerned that decades of progress towards equality might quickly disappear under the new administration.