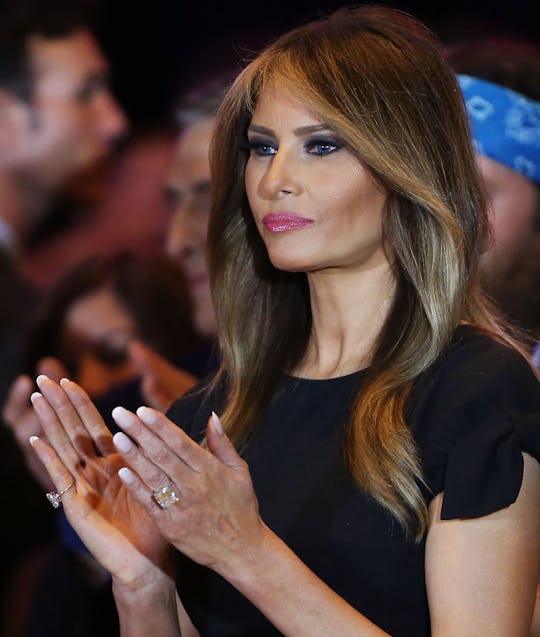 Spencer Platt/Getty Images News/Getty Images
What Would Melania Trump Do As First Lady? She Likes Women, Children, & Privacy
Real estate mogul Donald Trump is now the last man standing in the Republican presidential campaign, and it might take a bit of a political miracle to keep him from representing the party in the general election. The likelihood of Trump becoming the next President of the United States has become more real than the country expected when he first announced his intention to run last June. If he did make it to the White House, some fans — and dissenters — are wondering what Melania Trump would do as first lady. After all, she'd be following up Michelle Obama, who has made quite the favorable impression on the U.S. with her commitment to childhood health and higher education.
So what could we expect from Melania Trump? The former Slovenian model is currently a jewelry designer and runs her own skin care line. She's remained pretty quiet ever since Trump decided to run for president: she's only tweeted a handful of times since, and Melania's longest Facebook post since he began his campaign was a response to a GQ article that she believed painted her unfairly. She's remained private even as Trump has caused media firestorms and has said little on campaign stages — although at one, after praising his leadership and fairness, Melania said:
As you may know by now, when you attack him, he will punch back ten times harder.
That's not to say she agrees with everything Trump does or says. "That is normal," she told CNN's Anderson Cooper. "I'm my own person, I tell him what I think, I'm standing very strong on the ground on my two feet and I'm my own person, and I think that's very important in the relationship."
In that same CNN interview, she spoke briefly on what kind of first lady she would be. "We are in the 21st century. I will be me," she said. It seems that if she made it to the White House, her focus would be on women and children:
I will be different than any other first ladies. I will help women. I will help children. They are the future.
As for her political views, Melania told Harper's Bazaar in January that, although she and Trump disagree sometimes, she was leaving the politics to him. "I'm choosing not to go political in public because that is my husband's job," she said. "I'm very political in private life, and between me and my husband I know everything that is going on. I follow from A to Z."
Melania has agreed with Trump's immigration views, saying that her Slovenian background wouldn't be a problem in a Trump world. "I followed the rules," she told Harper's Bazaar. "It never crossed my mind to stay here without papers." She doesn't see Trump's misogynistic comments as problematic, either, having told MSNBC that Trump doesn't care about gender. "You're not — it's a woman or a man. It's no difference. You are human," she said. "He will tell you what is in his heart, what he thinks."
Other than that, she has barely spoken of her political views or what a possible future in the White House would look like. She's even kept her comments on past first ladies to a minimum (although she did concede to Harper's Bazaar that Jacqueline Kennedy "had a very beautiful, elegant, simple but feminine style"). Since she has largely remained quiet and supportive in the media throughout Trump's campaign, I think she'd most likely do the same during a Trump presidency.