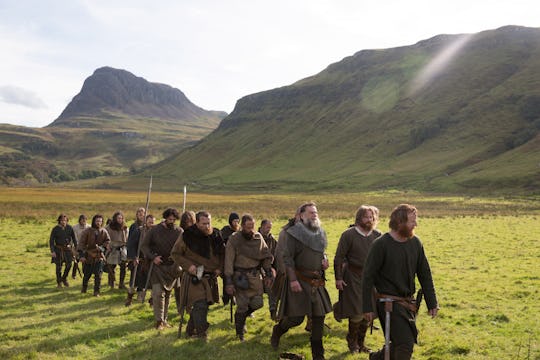 David Eustace/Netflix
'Outlaw King' Tries To Tell The True Story That 'Braveheart' Didn't
You may know him as Captain Kirk in the Star Trek movies, or as government agent Steve Trevor from Wonder Woman, but actor Chris Pine is taking on a completely different role in the new Netflix film, Outlaw King. Pine plays Robert the Bruce, a real-life Scottish king who fought for his country's independence from England. The film features plenty of historical references, which has fans wondering: exactly what year is Outlaw King set?
Outlaw King tells the story of Robert the Bruce, who according to Encyclopedia Britannica, lived in Scotland in the early 1300s. Robert was born in 1274, and became King of Scotland after his father died in 1304. He spent most of his reign fighting for Scotland's sovereignty in the First War of Scottish Independence. In 1328 (a year before his death), he successfully pushed England into signing the Treaty of Edinburgh-Northampton which finally recognized Scotland as an independent kingdom.
In Outlaw King, fans will get to see the Scottish war through the eyes of the king who actually led the charge and won. "The untold, true story of Robert the Bruce who transforms from defeated nobleman to outlaw hero during the oppressive occupation of medieval Scotland by Edward I of England," reads the official Netflix synopsis. "Despite grave consequences, Robert seizes the Scottish crown and rallies an impassioned group of men to fight back against the mighty army of the tyrannical King and his volatile son, the Prince of Wales."
For a more Hollywood-esque reference to the timeline, think Braveheart. The 1995 Mel Gibson blockbuster told a story of the First War of Scottish Independence, and followed Sir William Wallace (Mel Gibson), a knight under Robert the Bruce (Angus Macfayden). Many historians believe that the movie featured many historical inaccuracies, with some arguing that in reality, the title of "Braveheart" was given to Robert the Bruce, not Wallace.
For Outlaw King director and co-writer David Mackenzie, historical accuracy was important. In an interview with Scotsman, he talked about the details that the 1995 movie left out. "Braveheart did Robert a disservice, it portrayed him as a wet and pretty nasty person and I felt like a disservice had been done to a national hero of Scotland," said Mackenzie. "It's been wonderful for William Wallace, who of course, didn't achieve his aims. But Robert did. It felt there was a hole in the film history of that period that we wanted to go into." He also revealed that in an effort to reflect the story's roots, Outlaw King was filmed on location in Scotland, so that the actors would find themselves in an environment "that's as close to the reality that they're trying to portray."
Chris Pine is tackling the role of Robert the Bruce in Outlaw King, and in an interview with Reuters, he noted that his role and the movie are about much more than just war. "It's certainly about Scottish independence," Pine told Reuters. "But I think ... it's about love, it's about relationships, it's about violence, it's about the cost of the violence, it's about man's will to power and be in power and what one is willing to do to get it."
Fans are excited to see Pine in such a gritty historic role, but his "package" seems to be getting the most buzz. The actor has two full nude scenes of Outlaw King, and when talking to E! News, he said he didn't understand what all the fuss was about. "There's certainly a double standard, because nobody would talk about it if it were a woman," Pine said. "I'm kind of embarrassed it actually has to be a thing to talk about."
If the gripping trailer for Outlaw King is any indication, fans will have much more to discuss when the movie is finally released. It will be exciting to revisit Scotland's war for independence through the lens of the king, and fans are counting on some historical accuracy this time around.
Outlaw King premieres on Friday, Nov. 9 on Netflix.