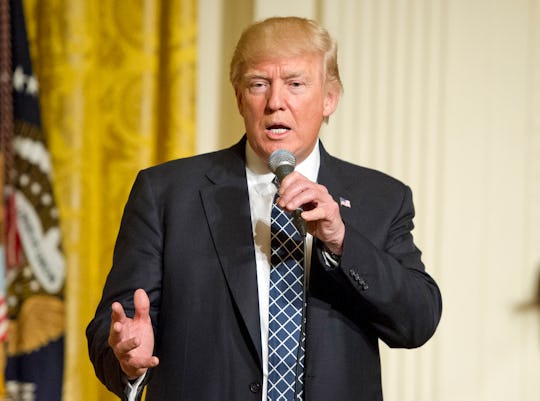 Pool/Getty Images News/Getty Images
WIC Organization Releases Trump Budget Response
President Donald Trump's proposed budget is calling for some major funding cuts across the board, and has since been defended by Office of Management and Budget Director Mick Mulvaney as being a "hard-power budget," designed to be fair to taxpayers, according to Politico. The problem, though, is that the Trump administration's idea of fairness also happens to translate into less money for much-needed social programs, including the Special Supplemental Nutrition Program for Women, Infants, and Children, or WIC, which provides food support for low-income pregnant or postpartum women, and for children under 5 years old. Here's what you should know about WIC under Trump's budget proposal.
The United States Department of Agriculture's WIC program allocates federal grants to state governments, who in turn provide funding for "supplemental foods, health care referrals, and nutrition education." In 2016, an estimated 7.8 million women and children were enrolled in WIC, according to The Guardian, the majority of whom were infants and young children considered to be "at nutritional risk." In 2013, about half of all infants born in the United States received WIC assistance, but the program has already faced difficulty when it comes to reaching out to all Americans eligible for help (many eligible don't know they are eligible). And if the Trump budget passes? That task might become even more challenging.
If Trump's proposed budget passes, the WIC program would receive $6.2 billion in federal funding, according to CNN, which would be a decrease in nearly $200 million. Despite the fact that research has shown WIC to be successful — especially since it began providing vouchers for fresh produce in 2009 — continued GOP-led efforts to decrease WIC funding have led to the closure of WIC offices throughout the country, and has limited its ability to provide local programs, including food education and breastfeeding support, according to The Guardian.
With even less funding available under Trump, that could become an issue if WIC's caseload increases. The good news at least, is that so far, the National WIC Association expects that the reduced WIC funding will still be enough to meet the needs of it's current caseload, in part because participation in the program has been declining over the past seven years. (To read WIC's full statement on Trump's budget, visit this link.) But since WIC is not a government entitlement program — that is, the government does not have to ensure that every American eligible for the WIC program can actually get it — the amount of funding it can receive is finite. In other words, if Trump's budget passes, the WIC program will have less money available to assist eligible Americans, meaning that if the need for the program were to increase, those not currently already enrolled may be out of luck.
That's particularly unfortunate news, because WIC actually seems to be a pretty good investment as far as government programs go. A 2016 study by the Centers for Disease Control, for example, found that between 2010 and 2014, approximately 60 percent of WIC State Agencies saw modest decreases in obesity rates among enrolled children, likely due to the program's focus on increasing access to fruits, vegetables, and whole grains. And, according to The Guardian, WIC's voucher program has even led to an increase in the amount of produce and whole grains offered by grocery stores (meaning that WIC has actually provided benefits to all Americans, not just those enrolled).
Beyond that though, it's becoming clear that the funding of government food programs involving children can have a major impact on long-term outcomes. According to Zoë Neuberger, Senior Policy Analyst at the Center on Budget and Policy Priorities, research has found that toddlers living in food-insecure families are less likely to succeed when they begin school, and furthermore, that food insecurity was "one of the most reliably predictive factors" for poor academic or behavioral outcomes amongst children who showed no signs of developmental delays at age 2. Yet, according to the USDA, approximately 1 in 6 American families with children under age 6 faced food insecurity in 2015 — meaning children from as many as 2.9 million families were at risk of poorer school outcomes because they lacked appropriate nutritional resources.
It's not clear if Trump's budget will pass in Congress, or at least whether it will pass as it's currently written. And until a more detailed version is made public, it's also not entirely clear just how worried American mothers and children need to be about their ability to access services through the WIC program. But what does seem clear is that the program will ultimately be expected to run with less money if the budget passes, which could affect local programs if WIC's caseload increases.