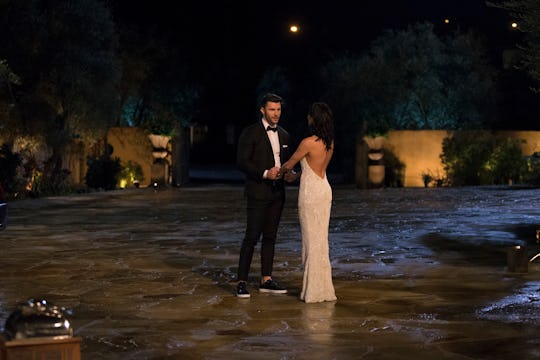 Paul Hebert/ABC
Don't Worry, Kamil From 'The Bachelorette' Doesn't Know What A Social Media Participant Is Either
Becca Kufrin's pool of The Bachelorette contestants has finally been announced, and with them we get a glimpse at some of this season's goofy occupations. Who could forget some of the iconic lower-thirds we've seen on Bachelor franchise contestants over the years? Chicken enthusiast! Taxidermist! Canadian! It's a rich tapestry of interests and occupations every year, but Becca's season has fans asking: what's a social media participant? Kamil from The Bachelorette is the not-so-lucky recipient of this season's most lackluster-sounding life.
Fortunately, a little professional digging uncovers that Kamil has plenty going on for himself besides merely participating in social media. He's a fitness model repped by Wilhelmina with a whopping 179,000 Instagram followers. As an ex-soccer player and current owner of one very shredded bod, he also runs a little personal training business called Fit With Kam on the side. As a trainer he offers a variety of personalized workout and nutrition packages. Plus, he works as a real estate agent and social media manager in Hudson Valley, New York, with a background in business administration, sales, and marketing. He even has a perfectly adorable German Shepherd named Quattro, and likes to cook. Kamil is basically the epitome of a Wine, Bachelor, and Yoga Pants boyfriend.
But Twitter ran wild with jokes about Kamil's bio — even if they did relate or attempt to show solidarity. Unsurprisingly, Kamil himself was among the most vocal critics of his listed Bachelorette occupation. It seems pretty clear that he didn't choose to identify that way and instead became the victim of a producer-riffed joke. Wrote Kamil in a cranky-emoji-riddled Instagram caption:
So whatever "Social Media Participant" means 🤔for the new season of "The Bachelorette." For everyone thinking the same thing as me 😐. 👇I'll clarify this below.👇** I work in Real Estate .🏡 **Model & Make Custom 💪🏻Training programs for many of my followers out there in this beautiful World 🌎 that are looking to change their lives for the better ❤️amongst other things. Now that this is cleared up have a good day! 😤😤😤 @bacheloretteabc Thank you 🙏
That actually does clear up a lot; thank you, Kamil! Am I the only one crossing my fingers for more shady posts fired off directly at The Bachelorette accounts during live-tweeting as the episodes air? His obvious gag occupation doesn't exactly set him up for a very serious edit this season, which Kamil has every right to be pissed about, especially if he felt he had a genuine connection with Becca, or if he was Team There For The Right Reasons.
In his defense, Kamil really does work as a social media manager for a transportation service in Hudson Valley. He writes in his LinkedIn bio that he's a "social media specialist across all major platforms including Facebook, Instagram, YouTube and email marketing campaigns." Unfortunately, that totally legitimate career experience turned into the world's sorriest-sounding special skill when it came to his Bachelorette bio. Hopefully, he gets a chance to rise above his played-for-laughs occupation and be taken seriously as a contender for Becca's affections, if that's what he wants.
As for Becca, she came into The Bachelorette off a devastating heartbreak at the end of last season when Arie Luyendyk Jr. presented her with the final rose and proposed -- only to take it back two months later and declare his love for her runner-up Lauren B. Arie then wound up proposing to Lauren during the After the Final Rose special. The whole thing was made even more awkward by ABC's roundly criticized decision to air the excruciating breakup in one long, unedited chunk during the finale. Hopefully, this season can be the fresh start Becca is not only looking for but totally deserves.