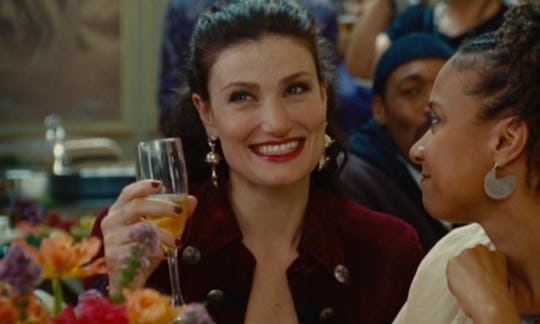 Columbia Pictures
Here's Everything Coming To Netflix In January, To Kick Off The New Year Right
Out with the old and in with the new. As 2017 comes to a close, it's time to say goodbye to some of your favorite shows and movies on Netflix. And while parting is such sweet sorrow, this also means it's time to get excited for what's coming to Netflix in January 2018. Because there are a lot of great shows and movies to look forward to in the coming year.
For example, the holidays might be over at this point, but Love Actually is heading back to Netflix, even though it only just left the streaming service in October. So in case you can't let go of your holiday spirit, you can watch this fan favorite film until your heart's content. There will also be a new Pixar film, new seasons of Netflix Originals, and some classic mobster films that you'll definitely want to check out. However, before we jump into January there are a number of great shows and movies you'll probably want to watch before they're taken off the site indefinitely.
After December, all the seasons of Lost will be leaving Netflix in January, so if you haven't binged it yet, now is the time. Also heading out the door this month are classic films like ET, Forrest Gump, and Grease. You don't want to miss your chance to see these movies before they're gone, so make sure to give them a watch before it's too late. And then get ready to add all of these new shows and movies to your watchlist.
Bring It On 1-5 (Jan. 1)
The first Bring It On is a classic that demands to be watched by everyone, and while the following sequels may not have been the best, there are still some great moments in each. Plus, Solange is in the third one, so do you really need another reason to watch?
Wedding Crashers (Jan. 1)
This hilarious rom-com, starring Owen Wilson and Vince Vaughn, will make you laugh but also hit you right in the feels. Especially if you're at that point in your life where everyone you know is getting married.
Willy Wonka & the Chocolate Factory (Jan. 1)
Gene Wilder was one of the amazing celebrities we lost in 2016, but he continues to live on as Willy Wonka in our hearts. Now you can rewatch the movie and relive all the fun and magic Wilder brought to the film.
Love Actually (Jan. 1)
Whether or not you think Mark's confession of love to Juliet is problematic, overall Love Actually is a heartfelt movie that has continued to spread the holiday cheer since 2003.
The Godfather 1-3 (Jan. 1)
These classic movies about the Corleone family are a must watch. Whether you've never seen them or watched every single one multiple times, now's the perfect time to have a Godfather marathon.
Rent (Jan. 2)
When the Tony Award-winning musical was turned into a movie, fans were thrilled and theater lovers everywhere continue to helm Rent as one of the best musical movies to date.
The Adventures of Puss in Boots: Season 6 (Jan. 26)
In the sixth season of this Shrek spin-off series, Puss in Boots continues on with his mission to protect the mythical city of San Lorenzo.
One Day At A Time (Jan. 26)
The modern day reboot of One Day at a Time returns with an all new season, and fans are already excited to see what the Alvarez family gets into next.
Cars 3 (Jan. 31)
The latest Cars movie is coming to Netflix, so if you (or your kids) missed out on seeing it in theaters, now's your chance to catch up with Lightening McQueen.
Also Coming in January:
Jan. 1
10,000 B.C.
30 Days of Night
Age Of Shadows
AlphaGo
America's Sweethearts
Apollo 13
Batman
Batman & Robin
Batman Begins
Batman Forever
Batman Returns
Breakfast at Tiffany's
Caddyshack
Chef & My Fridge: 2017
Defiance
Definitely, Maybe
Eastsiders: Season 3
Furry Vengeance
Glacé: Season 1
How to Lose a Guy in 10 Days
Justin Bieber: Never Say Never
King Kong
Lethal Weapon
Lethal Weapon 2
Lethal Weapon 3
Lethal Weapon 4
License to Wed
Like Water for Chocolate
Lovesick: Season 3
Maddman: The Steve Madden Story
Marie Antoinette
Martin Luther: The Idea that Changed the World
Midnight in Paris
Monsters vs. Aliens
National Treasure
Sharknado 5: Global Swarming
Stardust
Strictly Ballroom
The Dukes of Hazzard
The Exorcism of Emily Rose
The First Time
The Italian Job
The Lovely Bones
The Shawshank Redemption
The Truman Show
The Vault
Training Day
Treasures From The Wreck Of The Unbelievable
Troy
Jan. 2
Mustang Island
Disney's Pirates of the Caribbean: Dead Men Tell No Tales
Jan. 5
Before I Wake
Comedians in Cars Getting Coffee
DEVILMAN crybaby: Season 1
Rotten
Jan. 6
Episodes: Season 1-5
Jan. 8
The Conjuring
Jan. 10
47 Meters Down
Alejandro Riaño Especial de stand up
Captain Underpants: The First Epic Movie
In The Deep
Jan. 12
Colony: Season 2
Disjointed: Part 2
Somebody Feed Phil
The Man Who Would Be Polka King
The Polka King
Tom Segura: Disgraceful
Jan. 14
Wild Hogs
Jan. 15
2018 Olympic Winter Games Preview: Meet Team USA & Go for the Gold
Rehenes
Unrest
Jan. 16
Dallas Buyers Club
Katt Williams: Great America
Rita: Season 4
Jan. 17
Arango y Sanint: Ríase El Show
Friday Night Tykes: Season 4
Jan. 18
Bad Day for the Cut
Tiempos de guerra: Season 1
Jan. 19
Drug Lords: Season 1
Grace and Frankie: Season 4
The Open House
Trolls: The Beat Goes On!: Season 1
Jan 23
Todd Glass: Act Happy
Jan. 24
Ricardo Quevedo: Hay gente así
Jan. 25
Acts of Vengeance
Jan. 26
A Futile and Stupid Gesture
Dirty Money
Kavin Jay: Everybody Calm Down!
Llama Llama: Season 1
Sebastían Marcelo Wainraich
Mau Nieto: Viviendo sobrio...desde el bar
Jan. 28
El Ministerio del Tiempo: Season 1-2
El Ministerio del Tiempo: Season 3
Jan. 29
The Force
Jan. 30
Babylon Berlin: Season 1 & 2
Death Race: Beyond Anarchy
Retribution: Season 1
Check out Romper's new video series, Romper's Doula Diaries:
Watch full episodes of Romper's Doula Diaries on Facebook Watch.