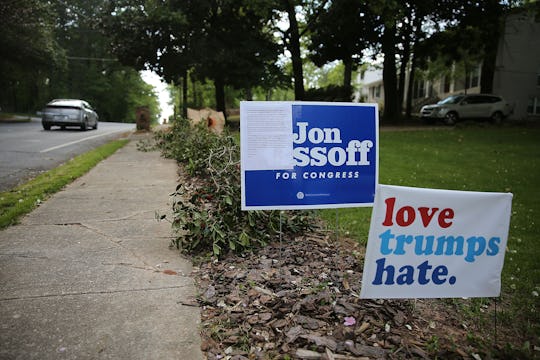 Joe Raedle/Getty Images News/Getty Images
What's Happening In Georgia's Special Election?
Voters in three Georgia counties will head to the polls on Tuesday, casting ballots to choose the new representative for the state's 6th Congressional District, according to The Hill. Normally, a smaller, regional election such as this one wouldn't get much national attention — especially in a district like Georgia 6, which has traditionally been a Republican stronghold. But with a growing anti-Trump sentiment in the area, and a popular Democratic candidate, the outcome might serve as a political litmus test for judging the current political climate across the country. What's happening in Georgia's special election? According to USA Today, it's possible that a Democrat might actually win the 6th Congressional District seat, which would make it the first time in 37 years that a Republican hasn't won. And if that happens, it'll be a big blow to the GOP: a Democratic win will send a pretty strong message about the impact of President Donald Trump's popularity.
The candidates in Tuesday's special election are running to fill the seat vacated by Republican Tom Price, who has since joined the Trump administration as secretary of Health and Human Services, according to Reuters. But when Price ran, he actually won the seat by a wide margin: according to FiveThirtyEight, Price won the district by 23 percentage points in 2016 — and that wasn't exactly an anomaly for the GOP, either. In 2012, Mitt Romney also beat President Barack Obama by 23 percentage points during the presidential election, although Trump himself didn't actually do nearly as well, he still won. According to USA Today, the president clinched the district by only one point over former Secretary of State Hillary Clinton in November.
If the Democrats do manage to flip the seat though, the candidate who will end up taking it will almost certainly be Jon Ossoff. A 30-year-old political newcomer, Ossoff did remarkably well in his fundraising efforts during the last three months, raising $8.3 million from donors, according to Reuters — more than all of the Republican candidates raised combined. And Ossoff is doubling down on that achievement: currently leading in opinion polls, he's taken a very direct, anti-Trump approach in his campaign. His slogan? "Make Trump Furious." And so far, it seems to be working.
While it's not clear if the president is furious about Ossoff, he certainly appears to at least be concerned enough about his popularity to tweet about it. On Monday, Trump called out Ossoff on Twitter, calling him a "super liberal democrat" who wants to "protect criminals, allow illegal immigration and raise taxes." On Tuesday morning, Trump said Ossoff would be "a disaster in Congress," that he was "VERY weak on crime and illegal immigration" and that he'd be "bad for jobs." And then, for good measure, the president followed up with a tweet urging Republicans in Georgia 6 to vote, claiming that "Dem Ossoff will raise your taxes," if he wins, and that he'd be "very bad on crime" and the Second Amendment.
An Ossoff win is far from being a sure bet, however. According to The Hill, the Georgia 6 election is actually an "all-party special election," in which any candidate wishing to run, regardless of party affiliation, can win if they receive more than 50 percent of the vote. But while Ossoff is expected to take pretty much all of the Democratic vote, polls still don't have him winning enough votes to take the seat outright: according to FiveThirtyEight, polls currently have him averaging between 42 and 46 percent of the vote going into the election.
Yet the Republican vote is even more divided. According to FiveThirtyEight, four different Republican candidates — former Georgia Secretary of State Karen Handel, businessman Bob Gray, and former Georgia Sens. Judson Hill and Dan Moody — have emerged as possible contenders for the seat, with Handel polling best among them. Yet those polls only have her averaging about 16 to 18 percent going into the election. So if the polling numbers are accurate (and possibly even if they aren't), it seems clear that neither party is a sure bet.
What happens then, if no candidate manages a majority Tuesday? According to The Hill, the race will drag on. In June, there will be a runoff between the top two candidates from Tuesday's vote, likely meaning that Ossoff will go head-to-head with a Republican candidate — and in a red district like Georgia 6, that might not lead to a good outcome for the Democrats. Yet Ossoff's popularity as a progressive candidate means that he certainly shouldn't be counted out, even if he fails to win a majority on Tuesday.
Either way though, there's no question this election has high stakes for both parties. A win for Ossoff and the Democrats will help bolster the belief that the GOP is on shaky ground thanks to Trump. But if a Republican takes the seat, it'll be a big setback for the Democrats, signaling that they might not be any closer to winning back the GOP-led House.
To make things even more complicated, on Monday, the Cobb County Elections Office reported that voting machines were stolen from a precinct manager's vehicle, according to The Hill. What's worse? It took two days for the elections office to actually report the theft — the machines were stolen on Saturday.
While further details of the incident are lacking, in a statement, Georgia Secretary of State Brian Kemp criticized the office for not speaking up sooner, calling it "unacceptable." But officials have said that the theft will not affect the election itself: Cobb County Elections Director Janine Eveler said information on the machines is "hard to access," and that the machines will be replaced before the polls open.
Regardless of which party you support, or where in the country you live, it's pretty clear that the Georgia election is going to be one to watch. Though depending on the outcome Tuesday, voters might still have to wait a few more months to find out exactly who will come out on top.