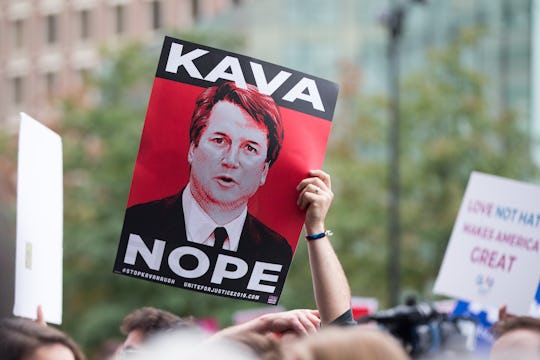 Scott Eisen/Getty Images News/Getty Images
Here's The Latest On What's Happening With The Brett Kavanaugh Investigation
The Senate Judiciary Committee's vote on Friday to confirm Supreme Court nominee Brett Kavanaugh was full of twists and turns. Although Arizona Sen. Jeff Flake, a Republican, announced earlier Friday morning that he would support Kavanaugh's confirmation, he later told the Judiciary Committee that he would only vote "yes" if the FBI conducted an investigation into his background and the sexual assault allegations against the judge. Considering a lot has happened since Flake's supposed change of heart, it's reasonable for people to wonder what's happening with the Brett Kavanaugh investigation right now.
Prior to the Judiciary Committee's dramatic vote, Kavanaugh and his accuser, Dr. Christine Blasey Ford, appeared before the Senate on Thursday to share their sworn testimonies about the allegations. Ford delivered measured and thoughtful responses to the questions, while Kavanaugh delivered a heated monologue about his love for beer, the supposed "search and destroy" effort by "the left," and his questionable yearbook writings, according to NBC News.
"I am innocent of this charge," Kavanaugh said in response to Ford's accusation that he allegedly attempted to rape her at a house party in 1982, when the two were both in high school, according to the BBC.
"Brett groped me and tried to take off my clothes. He had a hard time because he was so drunk, and because I was wearing a one-piece bathing suit under my clothes. I believed he was going to rape me," Ford said in her testimony, according to CNN. "I tried to yell for help. When I did, Brett put his hand over my mouth to stop me from screaming. This was what terrified me the most, and has had the most lasting impact on my life."
Two additional women, Deborah Ramirez and Julie Swetnick, have come forward with their own allegations about Kavanaugh. Ramirez alleged to the New Yorker that back in college, Kavanaugh "thrust his penis in her face," and Swetnick claims that the President Donald Trump's Supreme Court nominee and his friend, Mark Judge, would "consistently engage in excessive drinking and inappropriate contact of a sexual nature" at parties, according to CNBC, including alleged gang rapes. Swetnick claims she was drugged and assaulted at one of these events, according to People.
Kavanaugh has denied both Ramirez and Swetnick's claims, as PBS reported.
Despite all of these allegations, the Judiciary Committee pressed forward Friday with Kavanaugh's confirmation. And it looked like Kavanaugh's confirmation to a full Senate vote was a go until Sen. Flake recommended an FBI investigation.
"I think it would be proper to delay the floor vote for up to, but not more than, one week, in order to let the FBI to do an investigation, limited in time and scope to the current allegations that are there," Flake said, according to The Washington Post. The committee then approved Kavanaugh's confirmation 11 to 10, as The Washington Post reported.
Following Sen. Flake's surprise recommendation, there have been conflicting reports about the FBI investigation, including who exactly will be interviewed and whether the White House intends to severely limit its scope. And on that note, here's what's going on as of Monday.
Is The Investigation Limited In Scope?
On Sunday, Kellyanne Conway, counselor to President Trump, said the FBI investigation into Kavanaugh wouldn't be a "fishing expedition," according to CNN, adding:
The White House is not getting involved in the FBI investigation in that way. The President has said he very much respects the independence of the FBI and feels, as he said last night, that they should look into anything that is credible within that limited scope.
But Conway wouldn't elaborate when asked about what a "limited scope" means, leading to outrage among people concerned about Republicans' intent with the investigation.
Following some pushback, The New York Times reported Monday that the White House authorized the FBI to expand its investigation to include anyone "within reason."
"The F.B.I. should interview anybody that they want within reason, but you have to say within reason," President Donald Trump told reporters Monday, according to CBS News. "But they should also be guided, and I'm being guided, by what the senators are looking for."
It's not yet clear at this time if the FBI will interview Swetnick.
Who Has Been Interviewed?
News broke Monday that the FBI had interviewed Ramirez for hours, and that she gave investigators a list of potential witnesses, according to ABC News.
South Carolina Sen. Lindsey Graham, a Republican, revealed on Sunday that the FBI also intends to speak to Ford, Judge, and Leland Keyser, a school friend of Ford, according to ABC News. But Ford's lawyer, Debra S. Katz, told The New York Times' Sheryl Gay Stolberg on Sunday that the FBI has yet to reach out to their camp.
Keep an out on the aforementioned list in the coming days — it's possible it might expand.
When Will The Investigation End?
As of Monday, it still looks like the FBI will wrap up its investigation within a week. It will be interesting to see, however, if the investigation gets pushed back past the week mark, especially since Sen. Flake now wants a "real investigation" into Kavanaugh.
MSNBC's Kyle Griffin tweeted Monday afternoon:
Jeff Flake says he wants the FBI to do a "real investigation" on Kavanaugh: "It does no good to have an investigation that just gives us more cover, for example. We actually need to find out what we can find out.'"
Democrats Want These People Interviewed
Senate Judiciary Democrats, with the exception of Connecticut Sen. Chris Coons, issued a public letter Monday urging the FBI to interview the following list of 24 potential witnesses, including some of Kavanaugh's Yale classmates and ex-girlfriend of Judge, according to ABC News' Ali Rogin.
It's unclear whether the FBI will consider this list of potential witnesses seriously.
Of course, many people are hopeful the FBI conducts a thorough and just investigation into Kavanaugh. The American people and Kavanaugh's accusers deserve nothing less.