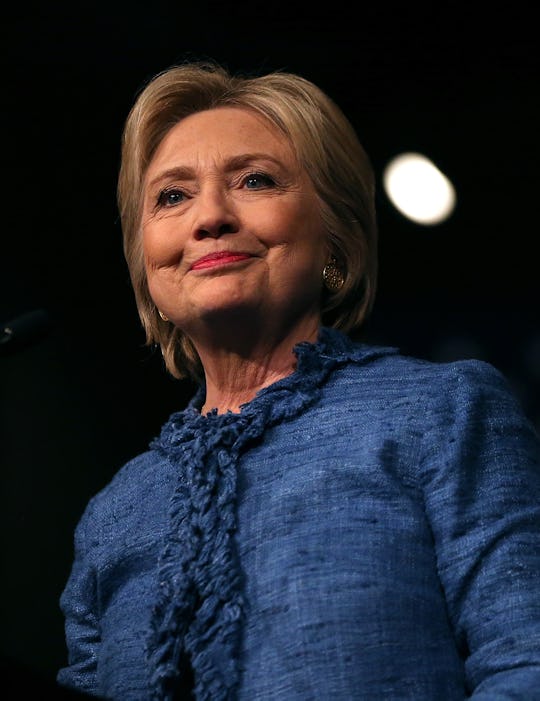 Justin Sullivan/Getty Images News/Getty Images
What's Hillary Clinton's Position On Gay Adoption? It's A Bit Confusing
Although she has many progressive platforms, former Secretary of State Hillary Clinton's position on gay adoption is not as easy to decipher. It's not that she's flip-flopped on issues — rather, because she has been in politics, wearing many hats during various federal and state administrations, Clinton has carefully chosen when and to whom to speak to when it comes to LGBT rights, adoption included, by highlighting and downplaying them given whatever race she's running. However, since launching a second bid for president, Clinton has decidedly made LGBT issues one of the main focused of her primary campaign to win the Democratic nomination. Adoption, it seems, was bound to come up.
When it comes to gay couples and adoption, the topic seems to be snuggled in with Clinton's overall support for "full federal equality " of LGBT Americans, as outlined on her official campaign website. According to The Advocate, when she spoke to the Human Rights Campaign in October, she seemed to be moving from what they called "tepidly tolerant" to full on activist. Clinton told the outlet that she was running "to stand up for the fundamental rights of LGBT Americans, and all Americans" and "enforcing" basic civil and human rights for LGBT Americans, and all Americans. That's more than most of the current headliners of the Republican party seem to be offering the LGBT community, but it's still vague and open to interpretation.
Still, things weren't always this way. Last October, when Clinton's emails were released to the public, the LGBT community was dismayed to learn that in 2010 Clinton opposed a pretty simple change to the State Department's policy about listing parents on passports. The legislation, which never passed, would have allowed same-sex parents to list their relationship to children as Parent 1 and Parent 2.
Clinton wrote to her staff, in 2010, that she "could live" with "letting people in nontraditional families choose another descriptor so long as we retained the presumption of mother and father." In fairness, she was prescient as a savvy politician, noting in the same email that without these traditional gender roles, they would face backlash from conservative leaders and "a huge Fox-generated media storm led by Palin et al."
But that attention to minor details about what would ruffle certain feathers just doesn't fly with a real activist agenda concerning overall, full federal equality for everyone.
In her current primary run, Clinton has turned up the volume on her position for LGBT rights and issues. She is in support of marriage equality, protecting transgender rights, anti-discrimination legislation, and even tapping Republicans to extend Medicaid coverage for treatment and health care to people living with HIV and AIDs, according to her website. Her official platform includes capping costs for PrEP and HIV medications.
Given her current platform on equality and federal protection, Clinton seems to be taking a stance that would support and uphold the rights of any couple to adopt. But her ability to transform, if not change her positions and get her history wrong is worth noting for wary voters. Especially LGBT voters thinking about starting a family that would be protected by the government anytime soon. Basic gist? Feel free to applaud her efforts, but don't be afraid to keep a keen eye on what's happening when nobody's looking.