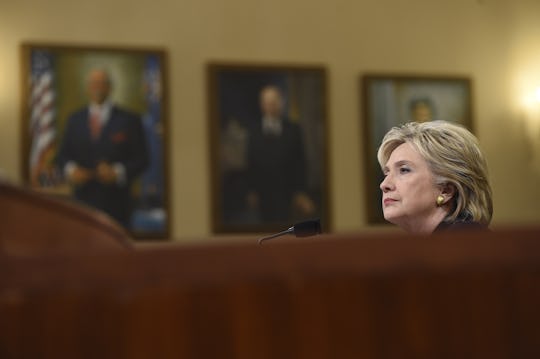 SAUL LOEB/AFP/Getty Images
What's In Hillary Clinton's 30 Benghazi Emails? Some Might Be Duplicates
Central to fighting the "untrustworthy" label she's often marked with is Hillary Clinton's need to quell conversations about her use of the private e-mail server that she used while serving as Secretary of State. On Tuesday, the FBI recovered 30 emails that might have been previously unreviewed. What's in Hillary Clinton's 30 Benghazi emails that makes them so worthy of scrutiny? Clinton claims that the hidden emails were deleted for their personal content.
Clinton turned 30,000 emails over to the State Department in 2014. These 30 emails were not included in that batch and are allegedly part of the 14,900 e-mails that were deleted from her private server. The FBI investigated Clinton's private server for a year, after which the Justice Department closed the case without criminal charges.
Justice and State Department attorneys have asked for a month to review these 30 emails "for possible classified information which also may require reviews by agencies outside the State Department," The Washington Post reported. U.S. District Judge Amit P. Mehta of Washington has asked that this process be sped up so that, by Sept. 6, it would be revealed "how many duplicates are in the batch and how many records may need added review." The State Department's need to release the emails comes from a petition by Judicial Watch, a conservative legal group that filed a series of Freedom of Information Act (FOIA) request.
The 30 new emails are believed to pertain to the 2012 attack on the U.S. consulate in Benghazi, Libya, though some of the emails may be duplicates of documents previously reviewed. The emails were found by "using broad search terms," spokesman John Kirby told CNN.
On Mar. 10, 2015, Clinton stated that, when asked for copies of the emails sent on her private server, she "responded right away and provided all... emails that could possibly be work-related." On Feb. 1, 2016, Clinton stated that she had "never sent or received any classified material." On the Aug. 22, 2016 episode of Jimmy Kimmel Live, Clinton again stressed: "My emails are so boring.... So we've already released, I don't know, 30,000 plus, so what's a few more?" These personal emails, Clinton has said, included irrelevant material such as "planning Chelsea's wedding or [Clinton's] mother's funeral arrangements," "yoga routines," and "family vacations."
Currently, the State Department is reviewing the submitted emails to discern whether or not the emails are, in fact, "personal," before they release the others. These emails could be released in the weeks leading up to the November election. The result may be benign, restating old information, or it might be significant, confirming suspicions—only time will tell.