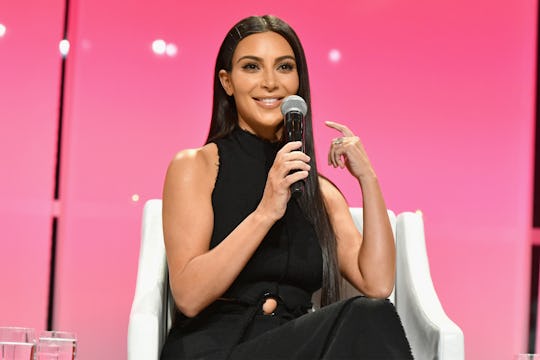 Slaven Vlasic/Getty Images Entertainment/Getty Images
Kim K's Robbery Report Reveals New Details
In October, Kim Kardashian was robbed in her Paris hotel room at gunpoint. Kardashian's immediate absence from social media and silence following the harrowing event left others struggling to piece together what happened that night. But now, details have finally emerged. For months people have been dying to know, what's in Kim Kardashian's robbery police report? This week, following a published report by French newspaper Le Journal du Dimanche, they have answers.
Kim's account, according to People, was recorded by French authorities early in the morning on Oct. 3, just after she had escaped from the restraints the robbers put her in and called for help. The report was reportedly translated from English to French, and then translated back to English. Those involved, especially Kardashian, remained mum on what exactly happened inside of that hotel during Paris Fashion Week. But Kardashian's account from that night, just moments after it happened, helps paint a very clear picture of exactly what went on. The police report reveals details that no one would have known otherwise — mainly, the descriptions of her attackers and how the night unfolded in front of Kardashian's eyes. The details inside of the report are a little scary and prove just how strong Kardashian is after living through the night's events.
Kardashian recalls of the robbers in the report:
I called my bodyguard at 2:56 a.m. Through the door I saw two people arrive, plus the night man who was tied up. It's the one with ski goggles who stayed with me. He demanded with a strong French accent, my ring. It was on my bedside table. It's worth 4 million dollars. ...I told him that I didn't know, he took out a gun, and I showed him my ring.
Kardashian then describes the terrifying account of being tied up by the robbers:
They grabbed me and took me into the hallway. I was wearing a bathrobe, naked underneath. Then we went in the room again and they pushed me on the bed. And, it was this time, they tied me up with plastic cables and taped my hands, then they put tape over my mouth and legs.
In addition to what happened that night, the report also details what was stolen during the robbery. According to US Weekly, the robbers stole more than $10 million in jewelry — such as "diamond bracelets, earrings, and a necklace with son Saint's name on it" and "two diamond Cartier bracelets and a gold Rolex," according to People. The robbers also reportedly took everything from Kardashian's purse. According to the report, she believed that the robbers were "inexperienced" because of the way they tied her up.
Kardashian's report is absolutely terrifying. No person should ever have to experience the trauma that Kardashian went through. And her now published report gives a clearer, first hand account of what happened that night.