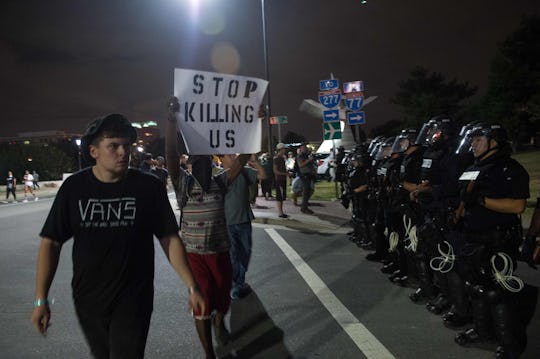 NICHOLAS KAMM/AFP/Getty Images
What's In The Keith Lamont Scott Video? His Wife Filmed His Encounter With Police
What exactly happened when Keith Lamont Scott was killed by police in Charlotte, North Carolina, has been heavily debated by both law enforcement and the public this week. On Friday, the Scott family's attorney provided The New York Times with a video Scott's wife filmed during his encounter with the police. What's in the Keith Lamont Scott video, however, does not answer all of the questions the public has regarding the shooting.
The video, which was shot by Rakeyia Scott on a cell phone camera, doesn't show Keith's death, although viewers can hear gunshots being being fired outside the camera frame. Several people can be heard speaking: Rakeyia talks to both the police officers and her husband; a police officer yells at Keith to drop his gun; and Rakeyia tells the officer her husband is unarmed. Moments later, Rakeyia's video pans to Keith, who lays wounded on the sidewalk. It's a disturbing video to watch.
"Don't shoot him," Rakeyia says in the video, as she begins filming police near Keith's pick-up truck. "Don't shoot him. He didn't do anything."
"Drop the gun!" an officer yells in the background.
"He doesn't have a gun," Rakeyia says. "He has a T.B.I. He's not going to do anything to you guys. He just took his medicine." (A "T.B.I." is a traumatic brain injury.)
An officer continues to yell at Keith to drop the gun. At this point in the video, Keith has not stepped out of the pick-up truck and is not visible. "Let me get a f—cking baton over here," an officer yells.
"Keith, don't let them break the windows," Rakeyia says. "Come on out of the car. Keith, don't do it. Keith, get out the car. Keith! Keith! Don't you do it. Don't you do it! Keith! Keith! Keith! Don't you do it!"
Gunshots are heard, Rakeyia's filming is disturbed, and then she can be heard yelling repeatedly, "Did you shoot him?" and "He better not be f—cking dead."
Soon after, the video ends. Attorney Justin Bamberg, representing the Scott family, told The New York Times that the video didn't prove culpability or justification either way — but he hoped that the video would give the public another perspective on the incident. According to The Guardian, police videos of the incident will be shown to the Scott family, but will not be released to the public.
Keith was shot on Tuesday afternoon in his apartment complex parking lot, where he was reportedly waiting for his son's school bus to arrive. Officers were searching for a wanted man when they allegedly saw Keith emerge from his car with a gun. Soon after, Keith had been fatally shot by officer Brentley Vinson. Since then, police and the Scott family have debated what happened: Keith's relatives say he was unarmed and reading a book, while police claim he was armed and did not drop his weapon.
While Rakeyia's video doesn't answer the questions that have remained unanswered in the case of Keith's death, it paints a heartbreaking picture of what his family endured.