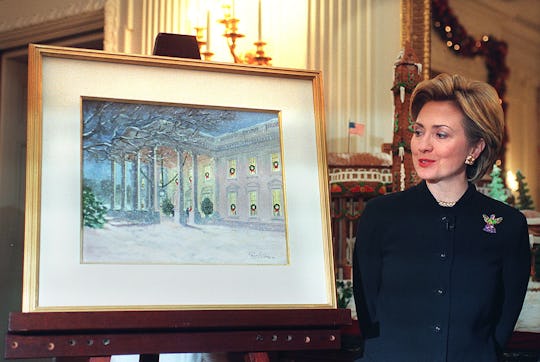 JOYCE NALTCHAYAN/AFP/Getty Images
What's In The Latest Podesta Emails Leak? Some Think Hillary Clinton Stole Home Decor
Despite the fact that Wikileaks has lost some credibility after it was revealed it fabricated information in its email dumps in order to influence the election, people are still interested in what it is uncovering in a trove of Hillary Clinton's emails. Most recently, the email dumps have come from the inbox of Clinton's campaign manager, John Podesta. So, what's in the latest Podesta emails leak? For one, some really weird claims about Hillary Clinton stealing a chair. Romper's request for comment to the Clinton campaign has not yet been returned.
Although, Wikileaks hasn't had a great track record of publishing authentic content as of late: the last batch included some arguably inauthentic content that was spun by a Russian news organization, who lifted paragraphs from an article by Newsweek reporter, Kurt Eichenwald. So, it's important to take these email leaks with a grain of salt.
The last batch, released on Oct. 15, appeared to show transcripts of Clinton's speeches to Goldman Sachs. The (relatively boring) content of the speeches wasn't really what had people interested, rather, the ongoing claims that Wall Street paid Clinton a lot of money to give those speeches. Since Clinton has spoken out against Wall Street throughout her career and campaign, the idea that she would accept (a lot) of money from them seems incongruous with her message.
The latest emails, released by Wikileaks on Tuesday morning, are more than a little bizarre: they claim that Clinton stole furniture from the State Department to use in her home. This claim originated from someone who previously worked in her security detail, according to The Daily Mail, which reported on the content of the latest email dump.
Did The Clintons Steal Home Decor From The White House?
These emails discussing the furniture aren't the first time Clinton has gotten into a little trouble regarding home decor: when she and Bill Clinton left the White House after his presidency, some alleged that they stole furniture, artwork, and other items. This wasn't exactly what happened though: the president and his family are often given gifts, and when the family leaves the White House, they are allowed to claim some of those items — up to a certain value. The rest becomes part of the White House itself, and part of its legacy.
The problem was this: when the itemized statement of what they took was released and published by The Washington Post, some of the people who had gifted items complained. They said that they hadn't meant the gifts to go directly to the Clintons, but rather, wanted them to become part of the White House.
Over the next few weeks, the Clinton's either returned the items to the White House or paid for the ones they intended to keep, totaling about $86,000. But in the hubbub, several pieces of furniture that the Clintons actually did own got caught up in the fray and were eventually given back to them.
In response to the claims made in the emails, a representative from the State Department told The Daily Mail that "Secretary Clinton brought a small number of personal items — including lamps — from her personal residence to the State Department when she became Secretary, and she took those personal items with her when she departed," adding that an inventory of items was kept and checked upon her departure, and no State Department property was removed.
Vice President Picks Revealed
Emails also appear to show a list of Clinton's running mate picks. Before settling on Virginia Sen. Tim Kaine, the emails purport she considered plenty of other people: including her former opponent for the nomination, Vermont Sen. Bernie Sanders.
The emails claim that Podesta sent a list of possible candidates for vice president to Clinton, having grouped them according to race and gender. The Clinton campaign has not confirmed the authenticity of the emails and a request for comment by Romper has yet to be returned. "Let me know if there are people you would like to see added or removed before we begin the process," the email from Podesta to Clinton reportedly read, "I have organized names in rough food groups." He then listed them as follows, grouped by gender or race:
Xavier Becerra, Julian Castro, Eric Garcetti, Tom Perez and Ken Salazar (all Hispanic men).
Tammy Baldwin, Kirsten Gillibrand, Amy Klobuchar, Claire McCaskill, Jeanne Shaheen, Debbie Stabenow and Elizabeth Warren (all women).
Michael Bennet, Sherrod Brown, Martin Heinreich, Tim Kaine, Terry McAuliffe, Chris Murphy and Tom Vilsack (all white men).
Steve Benjamin, Cory Booker, Andrew Gillum, Eric Holder, Deval Patrick, Kasim Reed and Anthony Foxx (all black men).
John Allen, Bill McCraven and Mike Mullen (all former military).
Mary Barra, Michael Bloomberg, Ursula Burns, Tim Cook, Bill Gates, Melinda Gates, Muhtar Kent, Judith Rodin and Howard Schultz (all with strong business ties).
And lastly, Bernie Sanders, who was not included in any of the above groups.