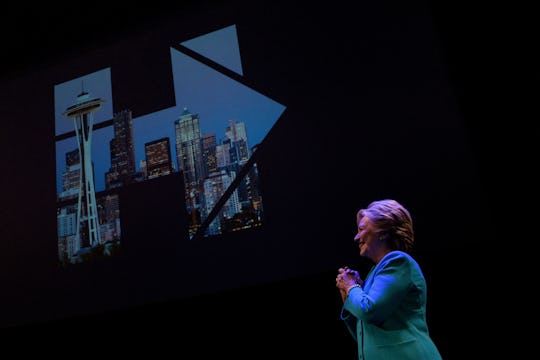 BRENDAN SMIALOWSKI/AFP/Getty Images
What's In The New Hillary Clinton WikiLeaks Emails? Aides Discussed Health & Apologies
On Sunday, WikiLeaks continued its unveiling of hacked emails allegedly from the personal email account of John Podesta, chairman of Democratic nominee Hillary Clinton's campaign. If indeed Podesta's, the latest release of emails would give the public an intimate peek at the inner workings of the Clinton campaign just 22 days before the election. Some of the earlier leaked emails reportedly revealed just how many staffers worked on a single Clinton tweet, the campaign's desire for a Larry David endorsement, and their concerns regarding Clinton's private server scandal. So, with that covered, what's in the new Hillary Clinton WikiLeaks emails?
The Sunday release brings the total amount of purported Podesta emails to over 11,000, released over the span of eight days. According to NPR, WikiLeaks claims to have more than 50,000 Podesta emails in total. WikiLeaks also insinuated on Twitter that their information came from many sources and was obtained in many different ways (i.e., not solely through hacking), while Clinton's camp refused to confirm or deny the veracity of the emails.
"We are not going to confirm the authenticity of stolen documents released by Julian Assange who has made no secret of his desire to damage Hillary Clinton," Clinton campaign spokesman Glen Caplin told Time in a statement earlier this month.
Confirmed or not, the emails are definitely worth taking a look at — and there were some interesting takeaways from the batch of emails released on Sunday.
Clinton's Aides Thought Her Lack Of Apology Was A Problem
In August last year, top Clinton officials allegedly expressed concern about Clinton's lack of apology when it came to her private server scandal. Adviser Neera Tanden reportedly wrote to Podesta:
I know this email thing isn't on the level. I'm fully aware of that. But her inability to just do a national interview and communicate genuine feelings of remorse and regret is now, I fear, becoming a character problem (more so than honesty). ... I see no downside in her actually just saying, look, I'm sorry. I think it will take so much air out of this. ... The way she has to bend here is in the remorse. Not the 'if I had to do it all over again, I wouldn't do it.' A real feeling of - this decision I made created a mess and I'm sorry I did that.
Podesta seemed to agree, allegedly responding: "Trying to figure out how to get her there and best way to execute."
The Campaign Debated Accepting Foreign Government Lobbyist Donations
In April 2015, top aides realized the campaign needed a policy when it came to accepting funds from groups lobbying on behalf of foreign governments. Campaign manager Robby Mook's strategy? Take the money and deal with any attacks if and when they come up. Campaign spokeswoman Jennifer Palmieri agreed, writing, "Take the money!!"
(It seemed like Clinton may not have been part of this discussion, however, since an email was later sent explaining that Clinton had read about the decision in the paper and wanted to "weigh in" on donors, according to CBS.)
They Wanted To Get Ahead Of Any Health Or Tax Rumors
Not a bad call, considering the frenzy that took place when Clinton had pneumonia. (Anyone remember that lovely #HillarysHealth hashtag?)
"Have you talked with her at all about taxes and health?" Mook wrote Podesta in March 2015. "I'm know both are hyper sensitive but I wonder if both are better dealt with very early so we control them--rather than responding to calls for transparency."
Aides Responded To The Revelation of The San Bernardino Shooter's Identity
After MSNBC host Christopher Hayes tweeted out that Syed Farouk was believed to be the San Bernardino shooter, Podesta wrote to a campaign spokeswoman in December 2015: "Better if a guy named Sayeed Farouk was reporting that a guy named Christopher Hayes was the shooter."
(That same month, Trump's campaign called for the "total and complete shutdown of Muslims entering the United States" until the U.S. government could figure out "what is going on.")
For those curious to read more of the alleged Podesta emails, there are plenty to sift through on WikiLeaks — and another 40,000 or so have yet to be revealed.