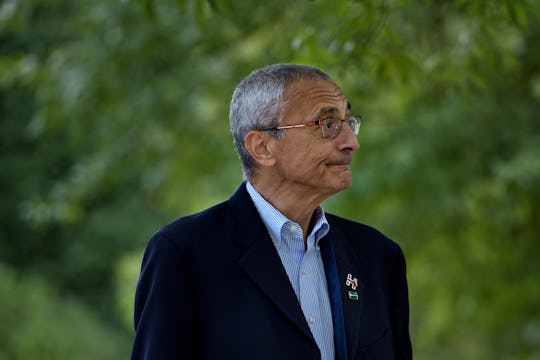 BRENDAN SMIALOWSKI/AFP/Getty Images
What's In The Podesta Emails, Part 15? Not Much So Far
Throughout October, Wikileaks has released thousands of emails allegedly from those connected to Hillary Clinton — specifically, her campaign chairman John Podesta. But for a month that promised there would be a major "October surprise" — there haven't been too many surprising things to come out of those emails. Those wondering what's in the Podesta emails part 15 might be surprised to learn that there's not too many shocking things to talk about, save for some confusing finger pointing.
But first, lets talk about some background. Podesta is Clinton's campaign chairman and was President Bill Clinton's White House chief of staff in 1998. Podesta's alleged emails, which were posted online by WikiLeaks, were first released in the beginning of October, and have continued to be released throughout the month. The 15th batch of emails were released by Wikileaks this weekend. However, this 15 batch hasn't exactly revealed any insidious bombshells about Clinton, her campaign, or Podesta himself (other than the fact that Podesta is on the Foot Locker mailing list). According to The Washington Post, Podesta's emails paint him just like anyone else — he is always being asked to lunch and receives boring news briefs. Podesta did not immediately respond to Romper's request for comment about the emails, thought Clinton's camp has repeatedly stated it cannot verify the validity of the emails themselves, in various comments to the press.
In fact, aside from one questionable piece of information in a previous batch (in which Clinton aide Huma Abedin points to the king of Morocco's donation to the Clinton Foundation as a logistics "mess" that Clinton herself had "created"), this leak overall hasn't revealed much in the way of super new or interesting content — just the inner workings of a campaign and a behind the scenes look into someone's inbox, which isn't that thrilling.
But some could argue that the newest batch of emails has revealed at least something. One email sent to Podesta names a list of journalists writing positive stories about Clinton — which some Trump supporters are already arguing is Clinton's way of having a hand in the media. However, in reality, it's just a round up of stories written about her and it means nothing more, in terms of her power to sway the narrative overall.
According to RT, a media outlet powered by the Russian government, there are also emails in this recent leak that call one Bernie Sanders adviser a bad word, one that suggests Clinton add a quote from Dr. Martin Luther King into a speech, and one that reportedly slams The Daily Show. Another email reportedly shows that Clinton was advised to link together Russian President Vladimir Putin and Donald Trump — a tactic which people have seen throughout the campaign and at the most recent debate. Just in case people thought this most recent batch of emails could not get any weirder, according to RT, there is some talk about UFOs, too — but when it's broken down to its basest level, even thats not too shocking, either. According to The Washington Post, Podesta simply has "an obsession" with aliens.
Boiled down, the emails from the alleged 15th Podesta leak reveal the inner workings of a campaign and give some blasé insight into a campaign chairman's inbox. Then again, October isn't quite over — so don't rule out a late "October surprise" just yet.