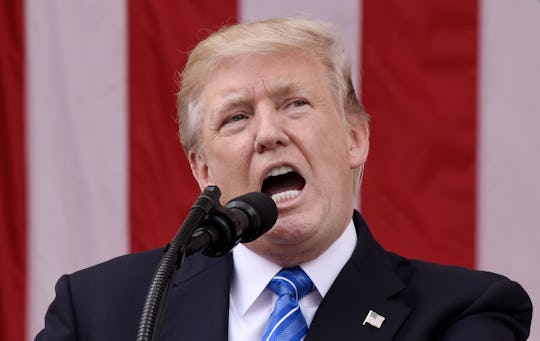 Pool/Getty Images News/Getty Images
Trump's Subscription Service Delivers Old Merch Right To Your Door!
Getting a little bored of your Birchbox? Stitch Fix got you in a stitch funk? If you're looking to get hooked on a new subscription box service, the president of the United States has got you covered, with his new "Big League Box" for recurring donors. But what's in President Donald Trump's Big League subscription box? No, it's not an expired Trump steak, some classified information you can share with your Russian acquaintances, and a photo of Ivanka. Instead, it seems that donors will receive "official merchandise" from the campaign. Bring on the bumper stickers and T-shirts, for the price of $69 per month. (Nice!)
On Monday, the Trump campaign sent out an email to donors, reading, in part,
The President wanted to make sure you got this special offer. Because of your overwhelming support, you're on the list for the FIRST ROUND of Big League Boxes! What's a Big League Box? A Big League Box is a handpicked bundle of exclusive and vintage OFFICIAL Donald J. Trump merchandise delivered to your door every month as a recurring donor.
According to screenshots of the email posted by CNN reporter Betsy Klein, the picture of the box in question showed a "Trump Pence 2016" T-shirt, a mug, a couple of bumper stickers, and some pins. So, in this case, "vintage" seems to mean "leftover merchandise from the 2016 campaign."
The Trump campaign did not immediately respond to Romper's request for comment.
I know, you're probably itching to get your hands on one of these puppies, ASAP! After all, you can never have enough bumper stickers, or enough subscriptions to boxes filled with surprises. But it looks like, at least until the SECOND ROUND of boxes, the general public might be out of luck. For now, this particular subscription box seems to be an offer for loyal Trump donors only, in exchange for continuing their recurring donations.
Because yes, even though it seems as if the punishing 2016 election happened just yesterday (and somehow, simultaneously, a million years ago), these boxes appear to be all about raising money for Trump's re-election bid. The Trump 2020 campaign has already hit the ground running or, perhaps more aptly for this particular president, hit the ground riding in a golf cart.
Trump filed to run in the 2020 election cycle the day after his inauguration, and began raising money for his second run earlier than any other incumbent in recent history, according to The New York Times. These subscription boxes will add to those already-substantial campaign funds.
We'll all have to wait and see what internet marketing trend the president jumps on next. And in the meantime, I guess these boxes really clear up that "big league" versus "bigly" debate.