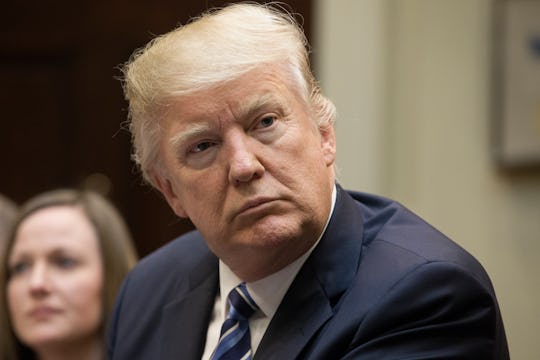 Pool/Getty Images News/Getty Images
Here's What We Know About Trump's Tax Returns
Nearly a year after initial inquiries into President Trump's unreleased tax returns began hitting headlines, the documents have finally made their way into the public eye. On Tuesday, following months of rampant speculation over what it was in Trump's tax returns that had both the president and his advisers guarding them so closely, MSNBC host Rachel Maddow announced that the network had finally obtained the files. Within minutes of the announcement, the news had gone viral on social media and prompted a response from the White House itself.
"White House says in response to MSNBC that Trump paid $38 million in taxes on income of $150 million," Reuters investments editor Jennifer Ablan reported in a tweet.
An official statement later released by the White House read,
You know you are desperate for ratings when you are willing to violate the law to push a story about two pages of tax returns from over a decade ago. Before being elected president, Mr. Trump was one of the most successful businessmen in the world with a responsibility to his company, his family, and his employees to pay no more tax than legally required. That being said, Mr. Trump paid $38 million dollars, even after taking into account large-scale depreciation for construction, on an income of more than $150 million dollars, as well as paying tens of millions of dollars in other taxes such as sales and excise taxes and employment taxes, and this illegally published return proves just that. Despite this substantial income figure and tax paid, totally illegal to steal and publish tax returns. The dishonest media can continue to make this part of their agenda, while the President will focus on his, which includes tax reform that will benefit all Americans.
On Tuesday evening, Maddow, speaking with the Pulitzer Prize-winning investigative journalist David Cay Johnston who broke the story, reviewed the contents of the 1040 form. When asked how he had come across the documents, Johnston said the two pages of 2005 returns were placed in his mailbox by an anonymous source. "It's entirely possible Donald leaked this to me," Johnston joked.
DCReport.com, which Johnston founded and which first reported on the returns, published a brief breakdown of the return's contents on Tuesday as well, which was made available through The Daily Beast, where Johnston is a contributor (for much of Tuesday evening, DCReport.com was intermittently overwhelmed by web traffic and available sporadically). The site explained:
The documents show Trump and his wife Melania paying $5.3 million in regular federal income tax—a rate of less than 4% However, the Trumps paid an additional $31 million in the "alternative minimum tax," or AMT. Trump has previously called for the elimination of this tax.
... Trump's 2005 return also shows that he'd continued to benefit from the roughly $916 million loss he reported in his 1995 return—published last year by The New York Times. Using a loophole Congress closed in 1996, Trump converted that loss into a tax credit for the same amount he could offset against income.
2005 was the year that Trump, a newly minted reality star, made his last big score as a real-life real estate developer, when he sold two properties, one on Manhattan's west side and one in San Francisco, to Hong Kong investors, accounting for the lion's share of his income that year.
At a general election debate last September, Trump claimed he would release his tax returns when then-rival Hillary Clinton released a trove of 30,000 deleted emails from the private server she used during her tenure as secretary of state. Understandably, Clinton declined the offer.
As of Tuesday night, Trump's personal Twitter account, from which he so often tweets angry messages regarding various topics, remained silent on the leak. The non-reaction was, in and of itself, telling.