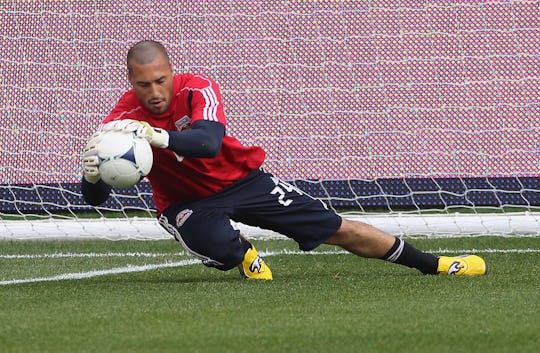 Andy Marlin/Getty Images Sport/Getty Images
Jeremy Vuolo's Net Worth Is Proof He Had A Career Long Before Meeting Jinger Duggar
It's almost like a natural human experience to want to know someone's salary. And such is the case with just about every reality television star in the world, even if they've married into their new role as pseudo-celebrity. So, with so much attention on his wife, Jinger Duggar, fans are eager to know what Jeremy Vuolo's net worth is. The former soccer player isn't exactly strapped for cash, although his new job as a preacher certainly puts things into perspective.
Jeremy, who celebrated his one-year anniversary with wife, Jinger, on Sunday, has led quite a life, even before he started appearing on TLC's Counting On. As fans of the show and Duggar family will know, the Duggar's strict rules on dating and courtship meant that Jeremy and Jinger spent a lot of time together before announcing their courtship and subsequent engagement. But, once that all became public, the issue of money also began to arise with the family.
So, what is Jeremy's net worth? It's a hard number to calculate, although EarnTheNecklace.com estimates it to be about $400,000, based on "matches he played, and several endorsement deals." However, that number isn't confirmed, and may not even be anywhere close to accurate, as The Hollywood Gossip reported, "The largest contract Jeremy signed was for $44,000, but as he never completed a full season, he never received even that."
So, clearly, Jeremy's income has been something that many have been wondering about. According to Us Weekly, the topic of money is something that has been a pretty important issue for the Duggars, as they live what they call a "debt-free policy," according to TLC. On a 2016 episode of Counting On, Jeremy and Jinger sat down with her father, Jim Bob Duggar, to catch up after the couple's recent courtship announcement. But, according to Us Weekly, Jim Bob was asking the hard questions:
Jeremy, being on the kind of modest pastor salary, when you get married, it's going to be a lot tighter, going from being a single guy to being a married guy, whenever that happens — I'm not saying anytime soon. But Jinger loves to go thrift shopping, and it's expensive.
Clearly, Jinger's father was concerned with the couple being able to support themselves on Jeremy's salary alone. So concerned, in fact, that he even made a not-so-subtle suggestion about what Jeremy should do to support his future family. "I was just curious about, financially and stuff," he went on, "I mean, you might have to have a part-time job, along with the pastor [gig], to make a go of it."
However, Jim Bob might not have needed to be so concerned, if EarnTheNecklace.com's estimate is correct. On the other hand, Jeremy might be totally OK with not being the couple's sole breadwinner. According to Celebrity Net Worth, Jinger herself has a pretty impressive net worth, estimated to be about $2 million.
Of course, that doesn't mean that all that money Jinger is reported to be worth is just sitting in her bank account, begging to be spent. The 23-year-old likely is estimated to have such a high net worth due to her television show, Counting On, and her book deal with her sisters, for co-authoring Growing Up Duggar: It's All About Relationships. So, while it may seem as though Jeremy and Jinger are well-off, they're not exactly living in the same kind of luxury as anyone in the Kardashian-Jenner family, for example.
But whether they're rich, poor, or somewhere in the middle, Jinger and Jeremy are clearly happy with together.
Watch Romper's new video series, Romper's Doula Diaries:
Check out the entire Romper's Doula Diaries series and other videos on Facebook and the Bustle app across Apple TV, Roku, and Amazon Fire TV.