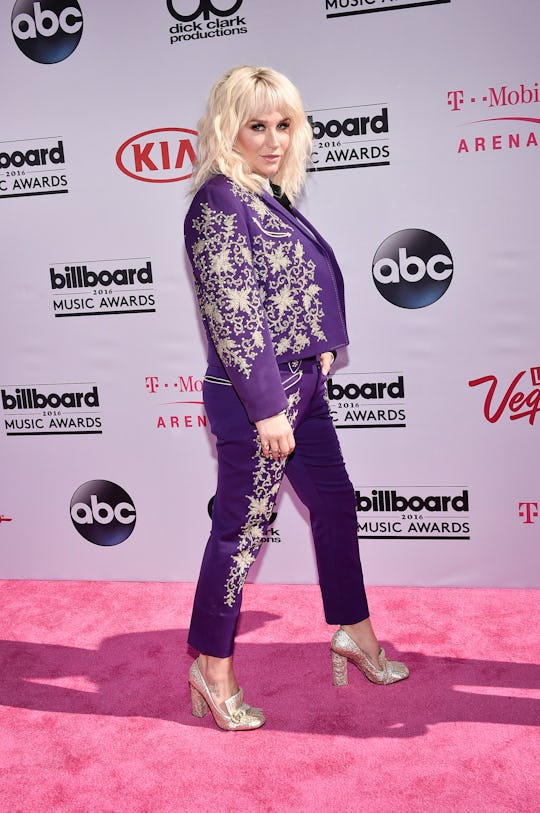 David Becker/Getty Images Entertainment/Getty Images
What's Kesha's Palm Tattoo? It Has Fans Talking
At Sunday night's Billboard Music Awards, pop singer Kesha performed a moving cover of Bob Dylan's "It Ain't You, Babe." Fans were not only impressed with her beautiful rendition of the song, but the tattoo she's sporting on the palm of her right hand. So what's Kesha's palm tattoo? While it was a little hard to get a clear glimpse of the ink on her palm as she performed, some eagle-eyed viewers think it might be an eye — and they'd be correct. Kesha first revealed her palm tattoo back in 2013 during the run of her MTV show, My Crazy Beautiful Life.
The eye in the palm of her hand is symbolic, representing a hamsa — a Middle Eastern amulet that features an eye in a hand and is meant to ward off evil spirits. It's not the only palm tattoo that she has, either. In December, she revealed a tattoo of the planet Saturn in the palm of her left hand. She shared the photo of her new Saturn tattoo on Instagram with the caption "Going thru my return of Saturn...." The hamsa tattoo on her right hand is particularly poignant given all of Kesha's ongoing legal battles against Dr. Luke over the last year.
Even more recently, Kesha showed off some new ink on her right wrist, posting photos of the tattoo to her Instagram account last week. The 29-year-old singer posted several pictures of what looks like a DIY tattoo. Kesha called it a "whale shark blob whatever" adding "I hope my hand doesn't fall off."
Kesha is known for her many tattoos, having a number of them all over her body, from hands, feet, and arms, to even the inside of her bottom lip. It seems that many of her tattoos appear during or after significant events in her life, or in moments of inspiration. Clearly Kesha's tattoos are very personal to her and her hamsa palm tattoo is no different.