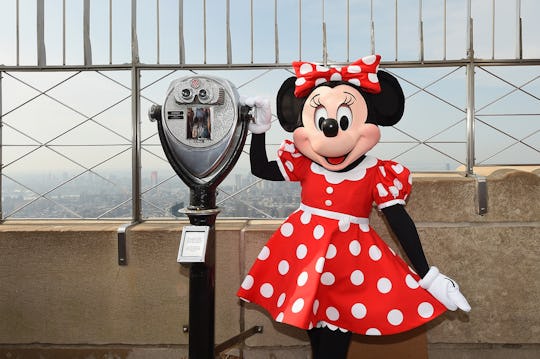 Michael Loccisano/Getty Images Entertainment/Getty Images
We Can't Believe This Is Minnie Mouses's First Name
Well, you can file this under things you probably never thought you'd be pondering, unless you happen to have a wealth of Disney knowledge bouncing around your head at all times. Have you ever wondered what Mickey and Minnie are short for? You'll probably never guess what Minnie Mouses' first name is, but once you know, you might just have to add it to your baby girl name list.
As it turns out, Minnie Mouse's first name is really Minerva. Isn't that pretty and unusual? According to Wikipedia, the writers of the original Minnie and Mickey Mouse comic strip, Ub Iwerks and Walt Disney, had quite a thing for 'M' names, calling nearly everyone in Minnie's family by a moniker that started with the letter 'm.' Her father was Marcus, her uncle was Milton, and her grandparents were Marshal and Matilda.
While Disney and Iwerks created Minnie in 1928, her full name wasn't revealed until 1942. And her voice, as well as Mickey's were both provided by none other than Disney himself. "Walt Disney provided the original voices for both Mickey and Minnie from 1929 to 1946. He didn't like any of the other voice actors originally cast for the roles," reports EOnline. Who knew, right?
As for Minnie Mouse's origin, Minnei was originally created to be the love interest for Mickey (whose full name is actually Michael) to replace nurses, dancers and other female characters. Wikipedia explains that Minnie was "designed in the fashion of a "flapper" girl. Her main outfit consisted of a short flapper girl dress that often revealed her distinctive patched knickers."
Interestingly, Minnie's character development changed over the years, from sassy sweetheart to damsel in distress, a little known fact that's a little less uplifting than her sweet given name. Initially, Minnie used to fend off Mickey's advances and affection, but slowly she morphed into a character that was consistently rescued by Mickey from catastrophes she found herself in.
As for the origins of the name Minerva, Behind the Name stated that, 'Minerva was the Roman goddess of wisdom and war, approximately equivalent to the Greek goddess Athena." The name enjoyed considerably more popularity in the late 1800's as a girl's name than it does now. In fact, Minerva doesn't even rank on the list of most popular girls names anymore — I mean, how many people do you know with that name? — which means it's probably high time for it to have a comeback. If you're due soon, you'll definitely have the only Minerva on the block.
If Minerva doesn't quite impress you, there are lots of other names inspired by mythology that are a little more well-known than Minerva. SheKnows ranks names like Flora, goddess of flowers, Aurora, goddess of the dawn, and Phoebe, goddess of wild things, amonst the most popular mythological baby girl names. If you're having a boy, you could opt for names like Ajax, a mythical Greek hero, Atlas, the Greek god who held up the heavens, or Zeus, the king of all the gods. No matter what, your kid will have a long history of strength to fall back on.
Or, if you're just a die-hard Disney fan, maybe you need a little Disney baby name inspiration for your upcoming little one. Does Mowgli from the Jungle Book suit your style? How about Calliope from the Hercules? Deacon from the Hunchback of Notre Dame veers more traditional, and the Little Mermaid also offers quite a few pretty names for girls like Alanna, Adella, Andrina, Arrista, Attina, and of course, Ariel. In fact, you could name a batch of girl sextuplets just from the Little Mermaid's cast alone. This would definitely be a home run for some die-hard Disney fans out there.
No matter what, it's worth exploring all genres, movies and comic strips in order to find the perfect name for your baby — the magical kingdom of Disney is just a start.
Check out Romper's new video series, Romper's Doula Diaries:
Watch full episodes of Romper's Doula Diaries on Facebook Watch.