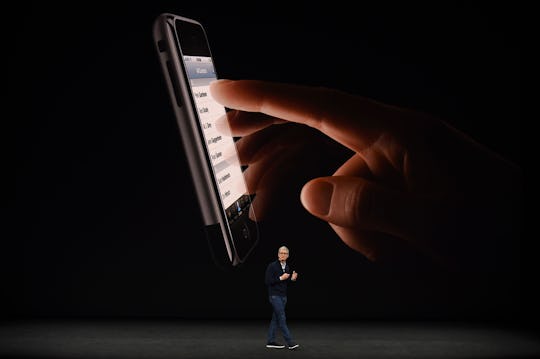 JOSH EDELSON/AFP/Getty Images
Here's Everything You Can Do With Apple's Newest iPhone Update
The most recent update for your iPhone is finally here and you're going to want to know everything there is to know about what's new with iOS 11. As of Wednesday, you can download the software update to your current iPhone or iPad. But if you plan on getting the iPhone 8, which comes out this week, or the iPhone X, which comes out later this year, it will already be preinstalled. It will likely look and feel a lot better on the newer devices, but that doesn't mean you have to miss out on the new operating system just because you're not upgrading your phone.
There are a lot of changes to the camera, how you manage your apps, and Siri. But the biggest changes might be the augmented reality capabilities that come with the new operating system and the new phone. With iOS 11, you'll be able to interact with virtual items places over your real world — like Pokémon monsters on the sidewalk or household items.
Apple released ARKit to developers this week, too, so expect to see a lot of new apps popping up to try out. If you loved Pokémon Go, you'll love the new AR apps that you'll be able to use with the new operating system. Apart from that major change, here are some new features of iOS 11 you'll be be obsessed with.
You Can Do More With Images
According to Fortune, the cameras on the new iPhones will be more advanced, but the camera app itself will change with iOS 11 — even if you have an older phone. Image files won't be as big, so you'll be able to save more pictures of your kids' ballet recital to your device and not delete things because of space constraints.
You Can Focus While Driving
Driving around your kids all day just got a little simpler. With iOS 11, you can turn on "Do Not Disturb" while driving, according to Metro, so you aren't distracted or tempted by phone calls or texts while you're behind the wheel. Now, all you have to do is get them to stop throwing things around in the backseat and turn down the kid jams to help you be really present while you're doing pick-ups and drop-offs.
You Can Call 911 Easier
The new operating system will allow to you hit your home button to access a new emergency mode. This will disable Touch and Face ID so that no one can force you to log into your phone (which is also smart to remember around law enforcement, says The Verge) and allow you to call 911 on the fly. Medical info is also accessible from this new emergency screen.
There Are GIFs Galore
You can now save GIFs from around the web directly to your phone. And, according to Mashable, turn your live photos into GIFs. Which is just more fun and makes everyone's life a bit sillier.
Your Messages Are Totally Enhanced
Now you can access your other apps directly from the Messages app. So, for example, you can send a recently viewed Yelp listing with your neighbors while you're planning a play date or share map locations with them without leaving your chat.
According to the experts over at CNET, you can also access Apple Pay directly from Messages so you can pay someone back without logging into another app, which is cool if you use the service. There are also some more fun stickers and effects to make texting even more addictive than it already is.
You Can Share WiFi Passwords
This is so useful! You know how some places have super complicated passwords to access their wireless network, or if you're out at a coffee shop and can't be bothered to ask the barista how to log in? Now, if your friend or another device is already logged on they can send you an invite to log onto the web via their connection, according to Engadget. We are obviously living in the future.
You Can Navigate Indoors
If you use Google Maps, you've enjoyed this feature for some time, but Apple Maps is catching up finally, according to Business Insider. Apple Maps will now show locations indoors, like malls and enclosed shopping centers. So if you're lost between the food court and the Gap, you can navigate like you would outside.
Your iPad Will Be Better
Remember that iPad you barely use anymore? Well, iOS 11 brings it to the next level. The keyboard is simpler to use (no more switching just to type a number), there's a new "app switcher" to make navigating between tasks easier, and there's a new app called File where you can store things. The iPad might have just gotten way more useful as a replacement for your laptop in some situations. According to Tech Crunch, it's a "fresh start" for the device.
The new features should make life easier for everyone. And, if nothing else, your GIF game just got a whole lot better.
Watch Romper's new video series, Romper's Doula Diaries:
Check out the entire Romper's Doula Diaries series and other videos on Facebook and the Bustle app across Apple TV, Roku, and Amazon Fire TV.