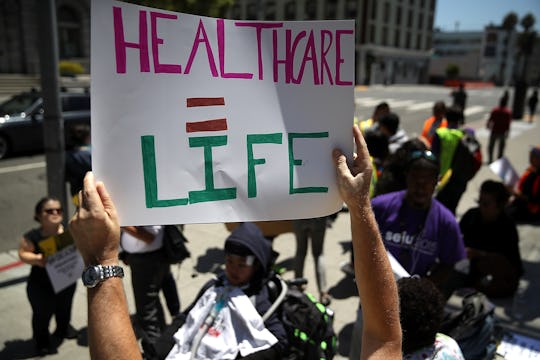 Justin Sullivan/Getty Images News/Getty Images
What's Next For Obamacare? Spoiler Alert: The Fight Isn't Over
The Republican "skinny repeal" health care reform bill was defeated in the Senate early Friday morning (though for many who stayed up, it felt more like it was very late Thursday night). Republican Sens. Lisa Murkowski, Susan Collins, and John McCain were all "no" votes on the bill, along with the entire Democratic wing of the Senate, and that was enough for the bill to just miss passage. So what's next after the health care repeal fail? There's still a lot to do, for both legislators and the rest of us.
According to CNN, the defeat was "a devastating setback" for GOP efforts to repeal and replace the Affordable Care Act, also known as Obamacare. It's also seen as a significant blow to President Donald Trump, who, frankly, is really not living up to that whole "winning all the time" promise.
But just because this particular reform bill has been defeated, that doesn't mean the game is over. There's still a lot legislators, on both sides of the vote, can and probably will do when it comes to health care reform. But more importantly, there's a lot voters — who've been showing up for daily protests on Capitol Hill and making calls to their representatives for weeks about "Trumpcare" — can do to keep fighting and holding those legislators accountable.
According to The Hill, some GOP leaders may now be more open to "a more formal process of committee work," and a more transparent process of trying to pass health care reform following months of bills that have mostly been put together out of the public eye and behind closed doors. South Dakota Sen. John Thune said:
We're not adverse to that. I just don't have high hopes that we're going to get anything that really solves the problems that we think exist with Obamacare today.
But then, most Americans didn't agree that the new health care reform bill was an answer to those problems anyway. Trumpcare was an incredibly unpopular bill; according to one survey, just 17 percent of respondents approved of the bill and 55 percent did not like it. And the non-partisan Congressional Budget Office released analysis on Thursday night that found, under the plan voted on early Friday morning, 16 million people would lose their health insurance in 2018.
So what's next following the latest failure for GOP efforts to reform the ACA? As CNN pointed out, the Republican Party has been arguing against Obamacare for seven years. But its efforts clearly aren't working. Could the next step, finally, be a bipartisan compromise, or will reform continue to be stuck in partisan gridlock for another few years?
Some representatives are already making plans. The Hill spoke with Wisconsin Sen. Ron Johnson, who said:
I've already talked to my ranking member, and we're already starting to lay out a hearing schedule, just laying out basic problem-solving process.
Which at least sounds a little promising?
And even Senate Majority Leader Mitch McConnell implied that the next step might actually involve the two major parties working together. According to The Hill, he said of the Senate Democrats:
So now I think it's appropriate to ask what are their ideas. It would be interesting to see what they suggest as the way forward.
That's where the rest of us come in.
The thing is, just because the "skinny repeal" was defeated, that doesn't mean the work of activists and voters is done. The first thing everyone who opposed the bill should be doing is calling their senators and either thanking them if they voted against it, or letting their senators know they aren't happy if their senators voted in favor of the bill. They need to hear from us, even now.
Next, everyone should research what they would actually like out of Obamacare reform, and contact their senators and congressional representatives to tell them.
One of the best things anyone can do right now is organize. If you don't know exactly how to get your representatives to work with you on what you'd like to see happen, find a group that has experience and work with them. Individual phone calls are great, and they almost certainly swayed some senators this time around, but there is strength in numbers.
Don't stop paying attention just because the "skinny repeal" didn't pass. There are sure to be plenty more efforts to repeal, replace, or reform the Affordable Care Act, and everyone needs to stay in this fight, because it still very much matters.