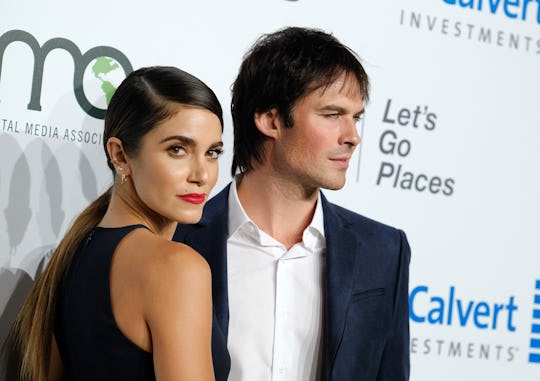 CHRIS DELMAS/AFP/Getty Images
Nikki Reed & Ian Somerhalder's Net Worth Proves Their Daughter Will Want For Nothing
Nikki Reed and Ian Somerhalder might give a new definition to parenting and couple goals. In the weeks since they announced the birth of their daughter, the two have expressed the love for each other and their child in the sweetest ways. With so much goodness going for them in their lives, inquisitive minds definitely want to know — what's Nikki Reed and Ian Somerhalder's net worth nowadays? The two definitely keep their hands full in Hollywood and have nothing to worry about when it comes to their bank accounts.
According to Celebrity Net Worth, Somerhalder's net worth is a reported $8 million, while Reed's net worth is a reported $12 million. Together, that would make their net worth as a couple around $20 million, give or take a few million dollars. But regardless of whether this number is exact or a rough ballpark figure, it's safe to say that Reed and Somerhalder have worked hard to get to where they are.
For Somerhalder's part, he spent eight years starring as Damon Salvatore on The Vampire Diaries on The CW, on top of taking on other projects. In 2010, TV Guide reported that Somerhalder made $40,000 per episode of The Vampire Diaries by the show's second year. With Somerhalder being a star of the show and starring in all eight seasons and 171 episodes, that means that Somerhalder made over $6 million just from the series alone (not including residuals).
Reed, on the other hand, is most known for her role as Rosalie Hale in the Twilight film series, which was a major success. According to E! News, Twilight made over $392 million worldwide with the film's actors receiving quite a lot of money in retroactive bonuses and residuals. According to Entertainment Weekly, Reed made a reported salary range of $750,00 to $1 million for the last two films in the five-part film series. Not too shabby.
But with their respective series behind them, Somerhalder and Reed have a lot to keep them occupied (when they're not fawning over their new daughter). Somerhalder is the star of the upcoming film, Time Framed, and just last year he signed a pod deal with WBTV along with Reed, according to The Hollywood Reporter. This means the two are helping develop and produce new projects and ideas for the people behind The Vampire Diaries.
Together, Somerhalder and Reed also have their own production company, Rare Bird Productions.
But this couple isn't just about acting or producing. Reed recently launched her own sustainable fashion line called Bayou with Love that she started while she was pregnant with her daughter, according to Fit Pregnancy. "I'm building and launching a line that's been a dream of mine," Reed told the magazine. "I honestly feel better than ever."
Regardless of how much money they have in the bank, it is clear that Reed, Somerhalder, and their new baby girl are doing just fine and are clearly busier and happier than ever.