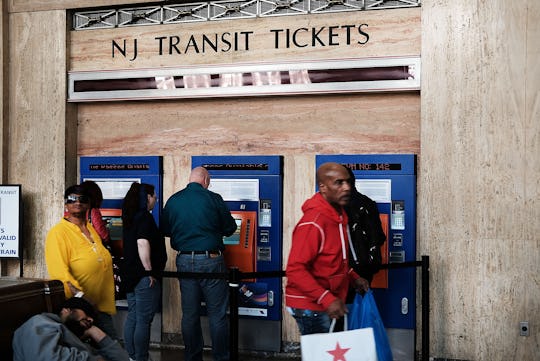 Spencer Platt/Getty Images News/Getty Images
What's NJ Transit's Crash Record? The Hoboken Accident Has Passengers Wary
A train on the NJ Transit system crashed into the platform at the Hoboken station on Thursday morning, and preliminary reports suggest that more than 100 passengers were injured, and at least three have died. Witnesses report that the train showed no sign of slowing or breaking as it approached the station, and many are wondering what NJ Transit's crash record is. Requests for comment by Romper were not immediately returned; NJ Transit's statement regarding the crash, as provided to ABC News, is embedded below.
The train accident occurred just over a month after another NJ Transit crash involving two buses. In the early hours of Aug. 19, the No. 59 bus t-boned the No. 13, killing two and injuring 17 more. The cause of that crash is still under investigation. Video footage of the accident was just released to the public on Tuesday. A month prior to that accident, one New York-bound NJ Transit bus rear-ended another in the Lincoln Tunnel, injuring 15 passengers and causing a partial closure of the tunnel, resulting in a 30-minute traffic delay, according to the New York Daily News. In June, a Hudson Bergen Light Rail train collided with an 18-wheeler truck in Jersey City.
NJ Transit trains have struck and killed several pedestrians in 2016, including an Amtrak employee, a high school soccer star, and quite a few unidentified "trespassers." There have also been a fair amount of train collisions with cars at rail crossings, but in most cases, the fault can be attributed to the cars' operators, rather than the engineers or a problem with the trains themselves. In all cases, the crossing lights and gates were operating properly.
In January, the National Transit Database released a report revealing that NJ Transit trains break down four times more often than the national average, with 213 major mechanical failures recorded in 2014, according to Bloomberg. The situation isn't expected to improve any time soon; the state can't afford to replace the nearly 20-year-old trains, as the State Transportation Trust Fund was exhausted last month. In 2013, New Jersey had 779 train accidents, the fourth-highest count in the nation, which resulted in 739 injuries and 21 fatalities. Whether Thursday's accident was caused by operator error, faulty equipment, or other means, remains to be seen.