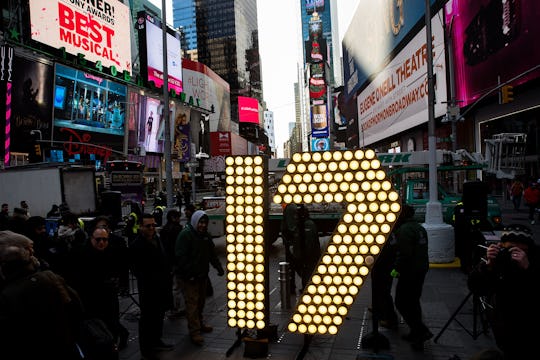 Drew Angerer/Getty Images News/Getty Images
Fill Your New Year's Day With Plenty Of TV
If you're planning on spending New Year's Eve out and celebrating and drinking your weight in champagne, then you're going to need to know what's on TV on New Year's Day. Well not to worry. There are plenty of binge-worthy options airing on the first day of the New Year, so really you don't need to leave your couch for the entire day, as long as you have someone to bring you food and water occasionally. (Thanks in advance, Mom!)
Now, if you have Netflix and a way to watch Netflix on your TV, this is obviously a fantastic option for binging. There's sure to be at least one amazing new show that you haven't gotten around to seeing and the lazy holiday days are the perfect time to catch up on all that viewing you've fallen so woefully behind on. However, if you're like me and a little bit of a purist, there is plenty of silliness happening on cable that you can flip through at your leisure. If there's one thing we need as a nation right now, it's a little bit of mindless distraction. So I have compiled my best list of what will be airing on television on New Year's Day for some easy watching.
The Twilight Zone
The Syfy channel is airing a marathon of The Twilight Zone, which will last over multiple days. It starts in the morning on New Year's Eve, and doesn't quit until 7 a.m. ET on Jan. 3. So it you've got a few days to kill, this is a great way to spend them.
Dazed And Confused
Airing on VH1 at 10 a.m. ET and then again at 4 p.m. ET, what better way to start 2017 than with Matthew McConaughey and his tight T-shirts? There is no better way.
The Real Housewives Of Atlanta
All day, Bravo will be airing a marathon of The Real Housewives of Atlanta (the best Housewives if you ask me), leading up to an all new episode. If grown women squabbling is your thing, I've found your plans for New Year's Day.
Say Yes To The Dress
TLC loves a good Say Yes To the Dress marathon, and so do I. In fact, I will happily watch women try on ugly dress after ugly dress for several hours until my brain has completely rotted out of my skull.
Law and Order: SVU
Praise USA and their ceaseless Law and Order: SVU marathons. Feeling a little unsure about the state of the world with Donald Trump as our upcoming new leader? I promise you that a few hours of watching Olivia Benson track down rapists and murderers will make you feel better. At least for a little while.