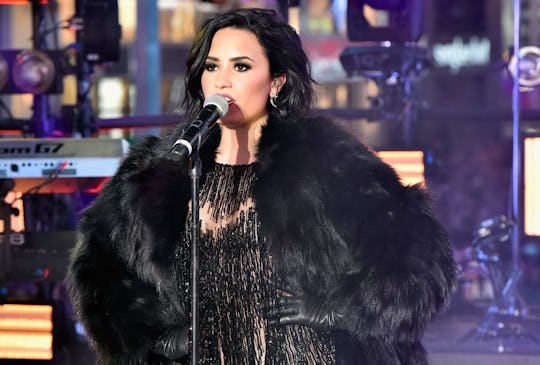 Eugene Gologursky/Getty Images Entertainment/Getty Images
Good TV Is In No Short Supply On New Year's Eve
Ostensibly, New Year's Eve is a night to drink champagne with your friends, kiss your lover at midnight, and watch the ball drop at Times Square on TV. Or, if you're particularly adventurous (and nutty), you may choose to stand in the cold for hours to watch it live. If, however, you're like me and not entirely sold on the whole New Year's Eve thing, maybe you'll be happily ensconced on your couch watching whatever else is on. So what's on TV on New Year's Eve? Never fear, fellow couch potatoes with agoraphobic tendencies, you've got plenty of excellent options for prime TV viewing.
New Year's Eve is one of those nights that never seems to live up to all the hype it's gotten. Everyone always imagines bedecking themselves out in sequins and funny 2017 hats with noisemakers and champagne and just having a grand old time. But somehow, I always manage to find myself at a poorly attended party miles away from home and in a fight with my date before the clock strikes 11. Maybe that's not everyone's experience, but I know I'm not alone here. That is why I will be spending this New Year's Eve on my couch with a select few loved ones, in my pjs, watching TV. (I'm not forgoing the champagne though.) Here is a selection of what I think will definitely be worth watching.
The Twilight Zone
Starting at 8 a.m. ET, the SyFy channel will be airing episodes of The Twilight Zone all day long, and deep into the wee hours of the morning on the first day of 2017. If you're feeling lazy and a bit spooky, this is an excellent option for binging.
Lord Of The Rings
Another highly bingeable option is the Lord of the Rings trilogy which will be airing on TNT. Well, the second two films will be airing on TNT, starting at 4:15 p.m. ET. What better way to ring in the New Year than with Frodo, Sam, and Mount Doom?
Dirty Dancing
Because Vh1 really "gets me," this channel will air one of my all-time favorite movies, Dirty Dancing, on New Year's Eve, starting at 7 p.m. ET. It ends at 9:30 p.m. so you'll still have time for some ball dropping antics if you so choose.
Legally Blonde
Another channel that gets me? E!, which will be airing Legally Blonde back to back at 6 p.m. ET and again at 8 p.m. ET. So if by some chance I do manage to get myself off the couch and off to whatever party is happening nearby, at least Elle Woods will be there to help me get ready.
Harry Potter
If I'm honest, this is definitely what I'll be watching all day on New Year's Eve. Freeform will be hosting a Harry Potter marathon starting at 7 a.m. ET with Harry Potter and the Sorcerer's Stone. The marathon mercifully skips Harry Potter and the Order of the Phoenix and moves right from Goblet of Fire to The Half-Blood Prince. Meaning that right as 2016 becomes 2017, I'll be watching Dumbledore meet his untimely end. I'm fine with it.