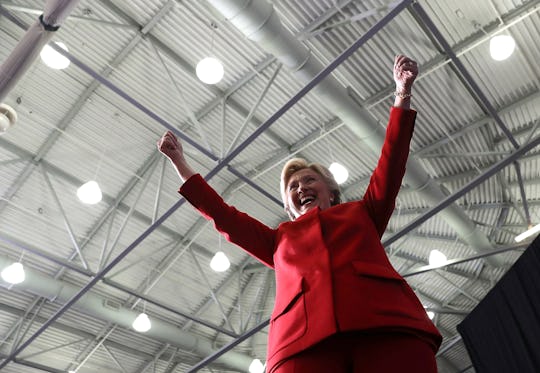 Justin Sullivan/Getty Images News/Getty Images
What's The Best Channel To Watch For Presidential Election Night Results? You Have Options
Election night is upon us. Those of us with foresight and resources have done what we must to prepare. We have gathered the popcorn bowls, the noisemakers, the champagne (for one eventuality) and the Canadian passports (for the other). When it comes time to turn on the television, though, many might be hampered by a simple, yet weighty, question: What's the best channel to watch for presidential election night results?
It's a question, really, of both lifestyle and temperament. For those of us who have shed the historical vestige of the television set (we see you, Brooklyn), there's the option of online streaming, which has substantially expanded during this election season. According to Tubefilter.com, six channels have teamed up with YouTube to stream election night coverage: NBC New, PBS, MTV News, Bloomberg, Telemundo, and The Young Turks. The agreement between these networks and YouTube came on the heels of the outstanding success of the presidential debate live streams. According to TechCrunch, YouTube's live streams of TV networks' debate coverage were the most-watched live streams ever, with the first debate garnering 3 million live watch viewers, the second 2.5, and the third 2.8 — and that's not counting the many millions more who watched the debates via YouTube after they had ended.
The live stream options don't end with YouTube. According to The Hollywood Reporter, BuzzFeed News and Twitter have teamed up for election night coverage, which will stream directly from BuzzFeed's headquarters in New York beginning at 6 p.m. EST. And it would be remiss not to mention the Trump campaign's nightly "news" show, which live streams from Republican presidential nominee Donald Trump's Facebook page using Facebook Live. Trump's Facebook Live stream reached 8.6 million Facebook viewers during and after the third presidential debate, according to CNN.
For those loyalists who want to live stream directly at the network's website rather than over on YouTube, there are multiple options for that as well. Most of the networks that are covering the election night results — including CNN, Fox News, MSNBC, NBC, ABC, PBS, and CBS — will also have live stream options available at their websites.
Of course, many Americans will prefer to watch the election night results from their actual television sets rather than squint at their 13-inch laptop screens. At this juncture, choosing a network becomes a matter of both style and political preference. For those seeking straightforward coverage that reaches a mass audience, the basic network channels might be the best bet. According to recent ratings data, when it comes to nightly news shows, ABC World News Tonight With David Muir has the most viewers, with NBC in second and CBS in third.
And then there is the partisan route. For those seeking the cool comfort of historical context, MSNBC anchor Rachel Maddow will be sure to offer keen insights, augmented by the self-assured gravitas of fellow MSNBC anchor Brian Williams. And if Hardball anchor Chris Matthews is on board for election night, his colorful commentary will certainly produce excellent fodder for right-wing mashups afterwards, as evidenced by this video of his comments during the 2014 midterms, during which the Democratic Party lost a lot of ground:
If the polls are to be believed, though, it will be conservative-leaning Fox News anchors who will be upset on election night. Given Trump's frequent allegations about rigged polls and thrown elections, one can only hope that Fox News will accept the results rather than reprise the bizarre situation of 2012, when Republican political consultant Karl Rove refused to accept the results of the presidential election. In response, beleaguered Fox News anchor Megyn Kelley at the time did her best to communicate to viewers that Rove was wrong, despite Fox continuing to put him on the air. When the results were finally accepted, visibly disillusioned fellow anchor Bret Baier offered the useful insight that "President Obama will win because his campaign did a good job of campaigning."
And finally, for the true traditionalists there is the option of viewing the election night results from the big screen. According to The New York Times, AMC Theaters will be showing CNN's election night coverage on movie screens across the country.
Whatever your preferred mode of viewing, it's time to break out the snacks, light the stress-reducing aromatherapy candles, and settle in.