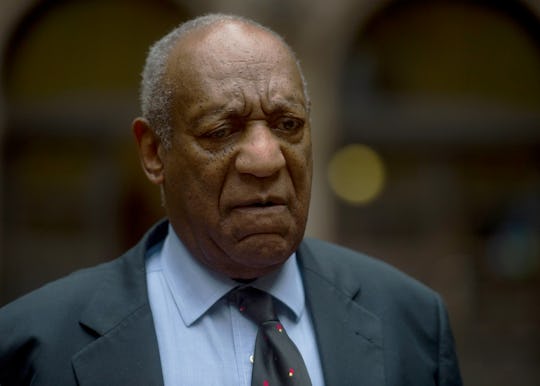 Pool/Getty Images News/Getty Images
What's The Evidence Against Bill Cosby?
On Monday, 79-year-old actor and comedian Bill Cosby appeared at the Montgomery County courthouse in Norristown, Pennsylvania. Cosby faces three felony counts of aggravated indecent assault, for allegedly drugging and sexually assaulting former Temple University athletics employee, Andrea Constand, in 2004. In a statement to Romper, Cosby's lawyer said, "Mr. Cosby is not guilty of any crime and not one single fact presented by the Commonwealth rebuts this truth." His lawyer did not respond to requests regarding the specific evidence presented in court. So, what is the evidence against Bill Cosby in the Andrea Constand case?
First, a quick primer on the case. Andrea Constand alleges that Cosby drugged and assaulted her in his Philadelphia home in January 2004. She contacted police a year after the alleged incident took place and filed a civil suit against Cosby in 2005; the two settled for an undisclosed amount in 2006. But the case came back into the spotlight after at least 60 women have accused Cosby of drugging and sexually assaulting them — but it's Constand's case that still falls within the statute of limitations in Pennsylvania. As such, it's Constand's case that moves forward with a jury trial where each of Cosby's three felony counts carries a 10-year maximum prison sentence.
Since Constand did not immediately report the alleged assault to police until a year after the incident took place, there is no physical evidence to support Constand's allegations. Here's a look at the three biggest pieces of evidence against Cosby that Montgomery County prosecutors could bring up in court.
Cosby's Own Words
In 2015, The New York Times and The Washington Post reported on documents that were unsealed from Constand's 2005 civil suit against Cosby. Within the unsealed documents was a graphic and damning deposition by Cosby himself, in which he admitted that he had Quaaludes — a hypnotic prescription sedative popular in the 1970s — and that he had given them to women with whom he wanted to have sex.
Cosby also talks about his encounter with Constand the night of the alleged incident — in very graphic detail — but maintained the sexual encounter between he and Constand was consensual. Cosby did say under oath he gave pills to Constand the night of the alleged incident, but that the pills were the allergy medication, Benadryl.
"Prior Alleged Victim Six"
The judge presiding over the Cosby case ruled in February that of 13 additional accusers, only one would be allowed to take the stand for the prosecution, going only by the name of "Kacey" — or, in legal documents, as "Prior Alleged Victim Six." In 2015, Kacey appeared alongside attorney Gloria Allred during a news conference, in which she described her role as an assistant to Cosby at the William Morris Talent Agency. Kacey has accused Cosby of sexually assaulting her after being drugged, in an incident in 1996 at a hotel bungalow in California. She has been allowed to testify in this case on behalf of herself and 12 other accusers because her alleged encounter with Cosby so closely mirrors Cosby's alleged assault of Constand. Cosby's representative did not immediately respond to Romper's request for comment regarding Kacey's allegations.
Constand's Mother, Gianna
In 2005, Constand told her mother, Gianna, about the alleged assault that had happened the year prior. Gianna, who has spoken to Cosby in the past, called him and left a message. When he returned Gianna's call, she recorded the nearly three-hour phone conversation, in which he admitted to giving her daughter pills, but did not identify them during the call. He told Gianna he would write the name of the pills on a piece of paper and mail it to her, which, according to her, he never did. It's entirely possible Constand could be called to the stand to testify against Cosby.
In addition to Cosby's 2005 deposition, Kacey's and Gianna Constand's testimonies, the prosecution is likely to call a number of other witnesses to support both Constand's case, as well as Cosby's alleged pattern of sexual assault and predation. The trial has only just begun, and is expected to take two to three weeks before a jury will have to decide if Cosby is guilty or innocent of the charges against him.