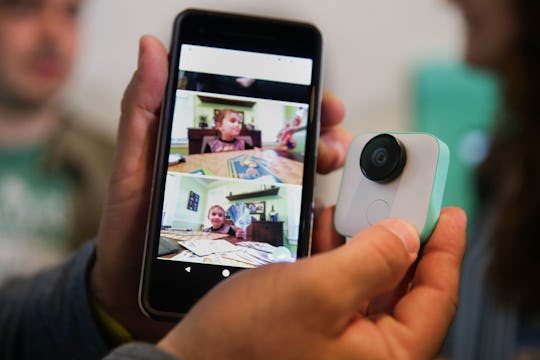 ELIJAH NOUVELAGE/AFP/Getty Images
The Google Clips Camera Might Be Perfect For Parents With Wild Toddlers
When I first learned about Google Clips, one song came to mind: Rockwell's "Somebody's Watching Me." If you're not familiar with the tune, it's about a man and his insistent paranoia that he's being watched by everyone around him, including the IRS. So what does a song about surveillance have to do with Google? What is the Google Clips camera anyway? Well, depending on your point-of-view as a parent, the new product could be genius or terrifying — if not both.
According to USA Today, Google Clips is a small camera powered by artificial intelligence that watches your surroundings once it's turned on. Unlike a traditional camera, Clips will take short silent videos on your behalf, choosing the specific moments it feels is worth capturing on film. The device, which Google unveiled Wednesday, would focus on faces and pets, and use its AI to recognize features so that it can snap the right shots, USA Today reported.
And you don't have to hold Google Clips at all times in order to get the perfect photos. As the Verge reported, you can place the camera on a shelf or clip it to your shirt, power it on, then go about your day.
What happens when you want the shots Google Clips captured? According to USA Today, Google Clips only records seven-second silent videos, which are stored to the device's built-in 16-gigabyte memory. But you can use Clips' corresponding phone app to access and edit the videos, and export stills, motion photos, movie files, or GIFs.
Google Clips is not available for sale just yet, though. According to the Verge, the camera, which will retail for $249, is "coming soon," with no official release date available. Google officials, though, hope to get it on the market by the end of the year.
But what exactly is the point of Clips, Google's first foray into camera products? According to the Keyword, Google's blog, the two-inch device is meant to help people capture those beautiful, candid moments without ruining those beautiful, candid moments. Think about it this way: You see your 11-month-old son trying to stand on his own. You go to grab your phone, but by the time you're back in the living room, your little one is crawling around, looking for something to knock over.
Google claims that Clips will help parents solve that problem. As the company wrote on its blog,
We hope Google Clips helps you capture more spontaneous moments in life, without any of the hassle.
And that brings me back to Rockwell. I can understand the want and need for a hands-free camera that captures all those moments you miss while scrambling with a clunky smartphone. Still, I can't get past the surveillance aspect of Google Clips. There's something unsettling about having a device that watches your every move — even if it doesn't take stills of your every move.
Granted, your small child won't know that you have Google Clips keeping an eye on them. At least, they may not understand fully what that means even if you explain it to them. But it's feel too Big Brother to me to have a camera watching my son at all times, hoping it would record the exact moment I want it to record. When he finds out later in life how I got those special shots, what will he say? If he's anything like me, he won't be happy about it. (Google hasn't yet responded to Romper's request for comment regarding surveillance worries.)
Sure, maybe I am making too big of a deal over Google Clips. After all, the new AI-driven device is about making life easier for parents so they can be present in those special moments. But maybe parents shouldn't think so hard about how to capture those moments and instead just live them.
Watch Romper's new video series, Romper's Doula Diaries:
Check out the entire Romper's Doula Diaries series and other videos on Facebook and the Bustle app across Apple TV, Roku, and Amazon Fire TV.