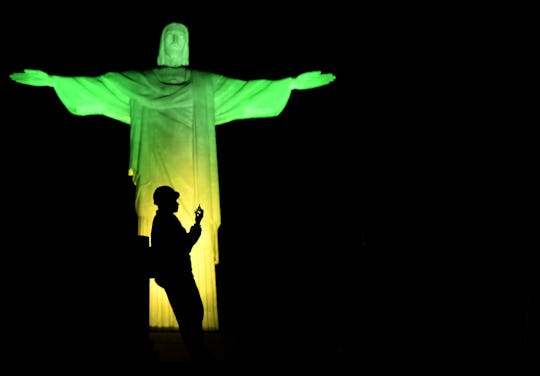 JEFF PACHOUD/AFP/Getty Images
What's The "Hawk" Song At The Beginning Of Rio's Olympics Opening Ceremony?
The opening ceremony of the 2016 Olympic Games in Rio de Janeiro opened with a beautiful display of the sights, sounds, and the beauty of Brazil, but it was the opening music that marked the beginning of something magical. As the crowd crooned along, I wondered what the "Hawk" song at the beginning of Rio's Olympics opening ceremony was? Fernando Meirelles, one of the three directors of the night, told NPR recently that the August 5 opening ceremony would be a night where "Brazilians can look at it and say we are a cool people, we are different ethnic groups, we live together, we never went to war, we are peaceful, we know how to enjoy life and we tend to be happy." Another of the show's directors, Leonardo Caetano, told NPR that the goal of the opening ceremony is, in part, to "make people fall in love with Brazil." Speaking with NPR, Caetano said, "we are very confident that we can do it."
A major focus of the night during the opening ceremony was music and its influence on the culture and future of Brazil.
This post is updating ...