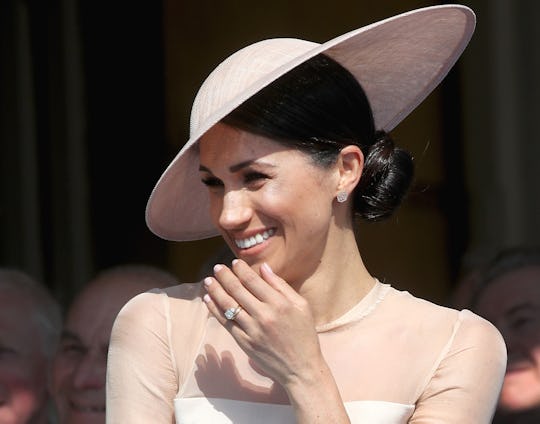 Chris Jackson/Getty Images Entertainment/Getty Images
Step Aside Princess Charlotte, Because The "Meghan Markle Effect" Is In Full Force
Celebrities influence everything, from wellness and fashion to culture and politics. And that's not only on an individual level, either — a celebrity can have a considerable impact on a country's economy just by showing interest in a product or material. Take, for example, Meghan Markle, who married Prince Harry in an extravagant wedding ceremony on May 19. The newest member of the British royal family has had a lot of sway over the last few months, leading people to dub it the "Meghan Markle effect." So what's the "Meghan Markle effect," exactly? The Duchess of Sussex is already changing the world, and making companies a lot of money in the process.
How? Just take a look at the jewelry business in the United States. As CNBC reported, the country's yellow gold sales have increased by about 30 percent in the first three months of the year — the biggest gains the industry has seen since 2009. And sellers believe that Markle, according to CNBC, the Duchess of Sussex, is mainly responsible for this huge profit boost. In fact, David Borochov, who works at R&R Jewelers in New York, told Reuters that shops began to see an uptick in yellow gold sales around the time Markle and Prince Harry announced their engagement in November.
"The last couple of months, it's increased more," he added, according to CNBC.
Borochov's assessment is shared by other jewelers interviewed by Reuters. Nerik Shimunov, owner of Crown Jewelers, a New York-based custom jewelry shop that caters to celebrities, told the outlet that yellow gold sales soared "about 20 percent from the beginning of the year," Reuters reported. At Daniel Levy Jewelry in Chicago, overall gold jewelry sales jumped 10 percent, with a "recognizable shift to yellow gold," according to Reuters.
But why yellow gold, in particular? It's Duchess of Sussex's favorite metal, and the one used for her three-stone engagement ring designed by Prince Harry, the Duke of Sussex, according to MONEY. Her custom-made ring, fashioned by Cleave and Company, features two diamonds set on a yellow gold band, hugging a large, sparkling center diamond taken from the late Princess Diana's own jewelry connection, MONEY reported in November. (Markle's wedding band is also made of yellow gold — specifically, Welsh gold, which is naturally more yellow in color, according to The Telegraph.)
That's not the only way Markle has had an impact on the economy. Brand Finance, a brand valuation company, estimated that the royal wedding would boost the British economy by $1.4 billion USD, according to Business Insider. That upsurge is thanks to tourism, travel, hotels, restaurants, parties, and sales of commemorative items including hats, banners, and t-shirts, Business Insider reported.
The fashion industry has also felt the "Meghan Markle effect." Brand Finance had estimated, ahead of the royal wedding, that the Duchess of Sussex's fashion decisions would bring in about $212 million in retail and apparel sales, according to Glamour. Although successful already, Givenchy — which created Markle's formal wedding attire — and Stella McCartney — the designer behind her second dress — have seen boosts in profits and exposure thanks to Prince Harry and Markle's nuptials last week, Glamour reported.
Royal wedding expert and British bridal designer Caroline Castigliano told Glamour:
For a design house to create a gown for a royal wedding of this magnitude, it has a phenomenal effect on the brand. Look at Alexander McQueen after the marriage of Kate Middleton to Prince William…. The gown elevated then little known Sarah Burton [the creative director of Alexander McQueen] … and the brand has gone from strength to strength across the world since.
This, of course, is just the beginning of the "Meghan Markle effect." There's no doubt that Markle will continue to influence culture, fashion, politics, and economies. After all, the feminist humanitarian has incredible style, inside and out. Who wouldn't want to copy that?