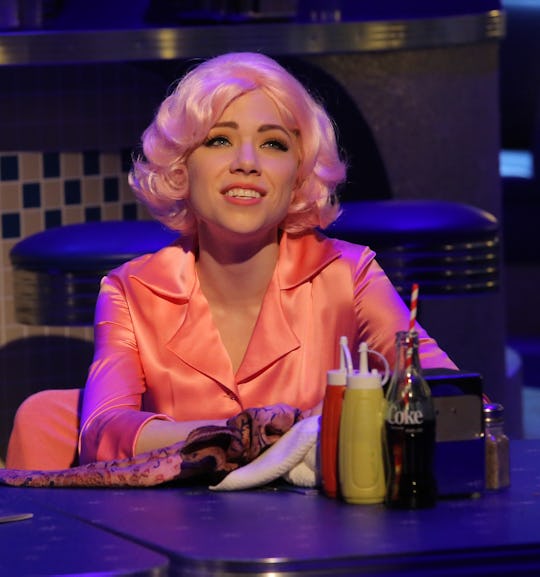 Kevin Estrada/FOX
What's The New Song Carly Rae Jepsen Sings In 'Grease: Live'? "All I Need Is An Angel" Wasn't In The Movie
Frenchy has a lot to say! Right before the classic "Beauty School Dropout" number in Grease: Live! during Fox's live broadcast on Sunday, Carly Rae Jepsen sang "All I Need Is An Angel." When Jepsen initially segued into the new tune after her meta chat with Didi Conn, of the movie version fame, people on Twitter were confused — and concerned it meant "Beauty School Dropout" had been dropped from the show. Fortunately it was just an addition meant to showcase Jepsen's own talents.
Although some of the other unfamiliar songs in Sunday's broadcast were included in the Grease Broadway show years ago, the debut for "All I Need Is An Angel" was a true first. Ahead of the show, executive producer Marc Platt told People they were "very excited" to introduce the number by Tom Kitt and Brian Yorkey. According to The Toronto Star, "All I Need Is An Angel" was a way to give a solo to Frenchy, who (surprisingly) didn't have one otherwise.
The new scene came during Frenchy's alone-time at the diner after she was booted from beauty school. As the lyrics for "All I Need Is An Angel" show, Frenchy was having a bit of an existential crisis: "So what now? Am I through?" she crooned. "Oh, won't someone tell me what to do? Where to go? Who to be? How to find the right way back to me?"
As it was happening, though, Twitter was also having a bit of a crisis, collectively freaking out over the apparent song-swap:
Of course, everyone's fears subsided shortly afterward. "Beauty School Dropout," sung by Boyz II Men, quickly followed, and all was right in the world again. Thank god. But in addition, Frenchy and Grease fans everywhere got a fantastic new song. Win-win.