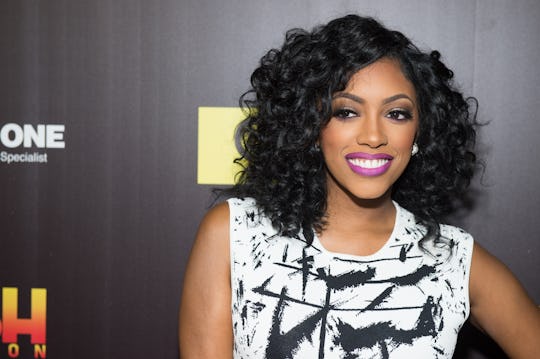 Marcus Ingram/Getty Images Entertainment/Getty Images
What's The Sex Of Porsha Williams' Baby? The 'RHOA' Star's Reveal Is Too Cute
Many fans were thrilled when Real Housewives of Atlanta star Porsha Williams announced her pregnancy news in September. And now it looks like supporters have another reason to celebrate because Porsha Williams revealed the sex of her baby on Saturday during an incredibly cute reveal party.
Six years after Williams suffered a heartbreaking miscarriage, she took to Instagram on Sept. 19 to announce her exciting pregnancy news.
"I am happy, healthy…and pregnant! #BabyMckinley #DM #Blessed," Williams wrote, referencing the initials of her boyfriend of a year, Dennis McKinley. "Love you all thank you for your support and warm wishes it means the world to us!"
Williams didn't announce the baby's sex at the time, preferring to keep it under wraps until this weekend.
"Can't believe we will know the sex of our baby tomorrow... What do y'all think girl or boy???? #Mommy & Daddy," Williams captioned an Instagram shot of herself and McKinley kissing.
As for how the couple broke the news? Williams and McKinley had the cute idea of giving their guests poppers filled with either blue or pink confetti, and everyone released the party favors simultaneously.
Williams took the event very seriously, even going as far to dye her hair blue with pink tips. You got to give the reality star props for playing up a theme.
So, what is Williams having? It's a ... girl! "💞#TeamGirl won! My little PJ is on her way! 🎀," Williams captioned her reveal video on Instagram. "#GenderReveal#BabyMcKinley 🙏🏾 Poppers:@superiorcelebrations#SuperiorCelebrations."
Editor's Note: The Instagram post has since been deleted.
Although most sex reveal parties are exciting, Williams' bash is especially thrilling because of her mom's reaction. Shortly after the poppers go off, Williams' mother does a little happy dance (aka jumping up and down vigorously) while the rest of her family breaks out into a group hug. Too cute.
It's also pretty funny that Williams' popper contained a few pieces of blue confetti — talk about a false alarm.
But wait — that's not all. Williams later shared a video of the pink confetti exploding into the shape of a heart. "💗Wow the shape of a heart 👼🏾💗 Thank you all for all of your LOVE & support 😘 #BabyMckinleygenderReveal," she captioned the incredible vid.
Following Williams' sweet posts, fans came out of the woodwork to congratulate her.
"Congrats @porsha4realI'm so happy for u. 💕💕💕 I'm having a boy and I can't wait to meet him, so I'm sure ur excited about #BabyMcKinley," one fan wrote.
"Awww congratulations she going to be so beautiful like her mommy," someone else chimed in.
"Aww Porsha God has blessed you with your mini twin you will be an awesome mother," a commenter said.
Of course, fans can expect Williams to address the pregnancy in the upcoming season of RHOA. In the Season 11 trailer, for instance, Williams tells her fellow co-stars that she's expecting. Considering RHOA is filmed earlier in the year, there's a good chance Williams will meet her little girl sooner than later. And based on Williams' thrilled reaction to the sex reveal, it's clear she can't wait for that date to finally arrive.