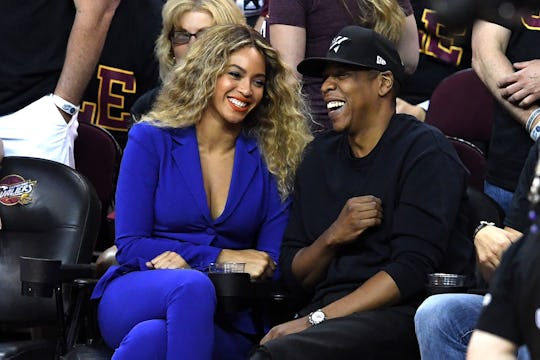 Jason Miller/Getty Images Sport/Getty Images
Beyonce's Newest Instagrams Are Fierce AF
If everyone were as cool as Beyoncé, the world would be a better place. Beyoncé is a trendsetter and an influencer; whenever she wears something, does something, or listens to something new, people take note. You, too will be influenced by Beyoncé's newest Instagram and will want to know what's the song in Beyoncé's new Instagram video? It's not by Beyoncé, but its just as good as any of her hits.
Early Friday evening, Beyoncé took to Instagram to share photos and videos from a date night with husband JAY-Z. In the photos, Beyoncé looks absolutely fabulous for someone who gave birth just two months ago. In one video, Beyonce shows off her jewelry and in the photo series, Beyoncé and JAY-Z are pictured enjoying a glass of wine (and looking absolutely adorable). But the best thing about Beyoncé's new Instagram posts from Friday is the video she shared. In the video, Beyoncé shows off every part of her outfit (including the most amazing accessories you'll ever see).
Everything about and in this video is enviable, and while you might not be able to afford those amazing shoes or that amazing ring, you can listen to the same music as Beyoncé.
The song used in the video isn't an unreleased song or an underground hit. The soundtrack to Beyoncé's latest Instagram video is a song called "Rake It Up feat. Nicki Minaj" by Yo Gotti and Mike WiLL Made-It. The song's lyrics aren't necessarily reflective of Beyoncé's lifestyle. According to Genius, the song is about Yo Gotti and Nicki Minaj, reflecting on their rap lifestyles and handling rap feuds. When it comes to feuds, Beyoncé tends to keep her life drama free (but she does know a thing or two about the rap lifestyle thanks to JAY-Z). Regardless of whether or not the song perfectly encapsulates her life, it is a pretty decent bop.
The photos were taken before and during a rare date night between the husband and wife, according to People, on Wednesday night. Beyoncé and JAY-Z were all dressed up to eat at a sushi restaurant in Los Angeles, without 5-year-old daughter Blue Ivy and newborn twins Rumi and Sir.
These Instagrams are a much welcomed update from Beyoncé, who finally returned to Instagram in July after a month long hiatus. It's true; people missed having Queen Bey in their lives. Luckily she will continue to slay fans with her outfit updates and outings on Instagram.