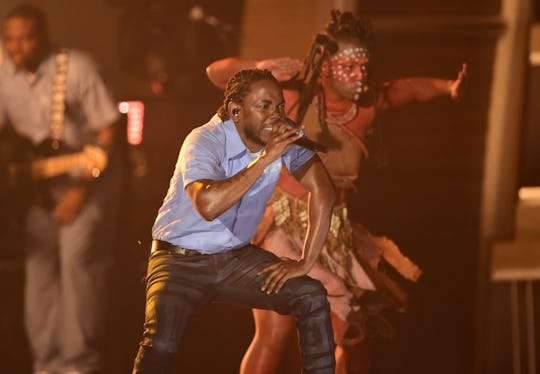 ROBYN BECK/AFP/Getty Images
What's The Track List For Kendrick Lamar's New Album? It's Not What You'd Expect
With his powerful Grammy performance still fresh in fans' minds, Kendrick Lamar released a surprise album of unreleased, untitled, and apparently unmastered songs last night. It's the first thing to follow Lamar's Grammy-winning, critically-acclaimed, chart-topping album To Pimp a Butterfly. But, what's the track list for Kendrick Lamar's new album?
Well, the album is called untitled unmastered for a few possible reasons. First, the obvious one: the songs are untitled and unmastered (meaning that there isn't much in the way of a track list). Second — and this is only hypothesis — perhaps Lamar is continuing the political message of his chained Grammy performance and exclaiming, in the most reserved way, that he, as a black man, cannot be labeled, nor does he answer to any master. Lamar is constantly defying the standard image of a hip hop artist by mixing genres, by pushing the medium, and by looking to provoke and probe, rather than just produce hit after hit. Everything with him seems intentional, so an untitled album (and untitled track), which may at first give the impression of carelessness, I suspect was a very careful decision.
Though the tracks are untitled, this new album apparently includes songs he performed at the Grammys, on The Tonight Show Starring Jimmy Fallon and on Comedy Central's Colbert Report. Lamar has been calling the surprise record a "project" rather than an album presumably because the set of unreleased tracks recorded between 2013 and 2014 (according to the dates on the track list) are what led to To Pimp a Butterfly. untitled unmastered, then, is more like a "making-of" collection for fans, or sketches, than a full follow-up to last year's groundbreaking oeuvre. To Pimp A Butterfly won Lamar five Grammy awards this year, so any new release, unmastered or not, is going to command attention from the hip-hop world.
During an interview with 2 Dope Boyz, Lamar hinted at the contents of this release. He referred once to the "chamber of material" that didn't make it onto his last album, but which he did sneak into performances. That is what fans are going to get access to on untitled unmastered.
I got a chamber of material from the album that I was in love where sample clearances or something as simple as a deadline kept it off the album. But I think probably close to ten songs that I'm in love with that I'll still play and still perform that didn't make the cut.
Lamar announced the release over social media after Spotify leaked information about the album, including the following track list.
untitled unmastered:
1. "untitled 01 08.19.2014."
2. "untitled 02 06.23.2014."
3. "untitled 03 05.28.2013."
4. "untitled 04 08.14.2014."
5. "untitled 05 09.21.2014."
6. "untitled 06 06.30.2014."
7. "untitled 07 2014 – 2016"
8. "untitled 08 09.06.2014."
With Lamar, fans never quite know what's coming, but they know it's going to be good. The same is true of this collection of recordings. You can find untitled unmastered on iTunes or stream it on TIDAL and Spotify.